Google Search

Search (Google!!)
Search Amazon.com
Home
E12
E24
E28
E30
E34
E36
Z3
E39
E46
X5/E53
ALL
Ron Stygar
Carl Buckland
Dale Beuning
Forums
Help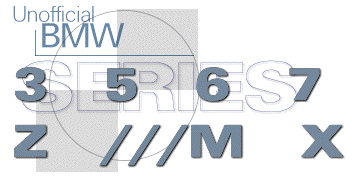 ---
---
From digest.v6.n846 Thu Jul 3 15:44:51 1997
From: Tom Jarlock <dlions_at_mail.state.fl.us>
Date: Thu, 03 Jul 1997 15:06:20 -0500
Subject: <radio crackle>

snip<>
Rakoczy, Steve (CORP)" Wrote:
>
>2) When I turn my knob on the stereo I get a crackling sound. I'm
>pretty sure that it is dust on the contacts. Is there and easy way to
>spray contact cleaner in there?
Yes, the radio needes to be removed and the bottom plate removed. Then, use a contact cleaner from radio shack to clean the knob pot. The knob pot is a hole in the piece that the knob shaft connects into. You may have to look around the piece to find the hole into which the cleaner goes. Don't be afraid to use lots of the stuff, it works. Do, however, be careful to limit the exposure to the rest of the radio. If the radio won't reset after installion, leave the key on for at least 24 hours and the code will then be accepted.
Good Luck,
Tom Jarlock
88 535i, 140,000 (clean knob pot, no crackle) CCA#127308
Unofficial Homepages: [Home] [E12] [E24] [E28] [E30] [E34] [E36] [Z3] [E39] [E46] [X5/E53] [ALL] [ Help ]