Home
E12
E24
E28
E30
E34
E36
Z3
E39
E46
X5/E53
ALL
Ron Stygar
Carl Buckland
Dale Beuning
Forums
Help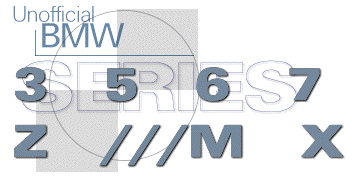 ---
---
From mssidhu_at_ix16.ix.netcom.com Mon Sep 30 19:51:54 1996
To: "Dale Beuning" <dale_at_unofficialbmw.com>
Subject: Re: 325es performance
Dale,
Sorry for the delay, it takes a lot of time to get a new BMW CCA chapter running not to mention the day job...
In response to your questions
Up untill my car had 100k it was completely stock and all I did was regular maintainence. Then, I went to a driver's school (baaad move) and also started autocrossing. It was evident that the car needed some "upgrading"
I started with the suspension
I added Hartge springs and Bilstein sport shocks. The car drove great and the tendency to lean was completely gone. It now had more oversteer than I liked so, I went to softer rear shocks (Boge turbo gas).
I added camber plates on the front to get some more camber in the front, I now have 3.5deg. With the lowering, I had too much neg. camber in the back so, I installed a Dinan adjustable crossmember and run .5 deg negative. Now, the car had mild understeer while autocrossing. After a few autocrosses, I added an M3 front sway bar. At the drivers school after this, the car did'nt "feel" very stable in high speed (relatively) turns. A very experienced instructor drove the car and suggested disconnecting the rear (stock) swaybar. This improved things radically. The car drives great on the street and more importantly on the track.I think it handles much better than my stock 89 M3, just wish I had more horsepower. The ride is pretty firm but, not bad even on long drives.
While all these "upgrades" were performed I found many other components that needed attention such as the front control arms/bushings brake pads etc. It is important to check bushings, joints etc. especially when upgrading the suspension as more stress will be placed on them.
I installed Repco Metalmasters and Castrol LMA fluid which dramatically improved the brakes, i have yet to have the brakes fade after this change.
I did install a 3.73LS rear end to get more pep which I now have and like it even though top speed is down to about 110mph. As far as the suspension goes, I think I am happy with the setup I have.
Engine: it is absolutely stock and never been opened up (I am guilty of not yet having changed my head bolts.... someday)
I went through the same debate that every enthusiast eta owner goes through, change cams, head etc. After consulting many people I feel it is not worth it to improve the eta motor especially considering most of them have many miles on them now. I consider the best avenue would be to install an M50 motor and add a chip, exhaust etc. getting over 200hp from a relatively long lasting virtually maintainence free engine for about what yuo would spend on improving the eta engine
I have thought of doing this many times but, I am trying to sell the car as I have had it for 6 years and want to get an M3 and set it up for track use and go club racing. Then again, I might swap the engine and make this my track car...
I wrote all this in a hurry so, if you have any questions or need clarification please let me know
hope this helps
Monty
>Hi Monty,
> We have an '86 325es that I would like to get more performance out
>of. I know that upgrading to the 'i cam is the way to go for a big
>performance increase, but I would rather not tear into the engine. If my car
>does 0-60 in 10-11 sec range now, I would like to get it down to the
>9 second range, and still be able to cruise all day at 100mph.
>I remember reading your exploits in upgrading your 'es and was
>wondering if you could list what changes you have made and how worthwhile you
>thought each mod was after doing it.
>I also maintain a web site I call the "Unofficial E30 Home Page"
>www.unofficialbmw.com/e30.html and would like to document
>a list of performance mods for the 325e owner there.
Unofficial Homepages: [Home] [E12] [E24] [E28] [E30] [E34] [E36] [Z3] [E39] [E46] [X5/E53] [ALL] [ Help ]