Home
E12
E24
E28
E30
E34
E36
Z3
E39
E46
X5/E53
ALL
Ron Stygar
Carl Buckland
Dale Beuning
Forums
Help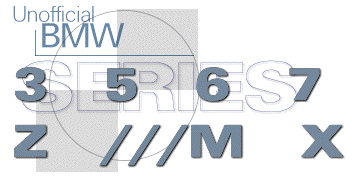 ---
---
From dale_at_unofficialbmw.com Sun Aug 2 10:02:44 1998
Sun, 2 Aug 1998 10:02:43 -0700 (PDT)
From: Dale Beuning <dale_at_unofficialbmw.com>
Sun, 2 Aug 1998 09:55:17 -0700 (PDT)
>Subject: Re: E30 - M3 Cams and exhaust
To: MeucciM3_at_aol.com
Date: Sun, 2 Aug 1998 09:55:16 -0700 (PDT)
Cc: dale_at_unofficialbmw.com ()

Hi,
If you want more/different feedback, subscribe to the bmw digest www.digest.net/bmw.
Perf for an E30 M3:
JimC chip from www.turnermotorsport.com
new cam gear from www.turnermotorsport.com and others
aftermarket exhaust
Dont's:
don't disconnect the cat converter or the O2 sensor
don't mess with the FQS setting in your motronic
don't mess with the air flap pretension spring in the Air flow meger
You may open up the spark plug gap from around .028 to about .032 if you like. You may get a 0.1% increase in HP at the expense of shortened plug life.
Dale
> My 91 M3 needs some more fun factor added.
> Does any one have exp. with installing different cams on this engine. My car
> has the evo. itake cam and exhaust cam gear installed. 268* I think but no
> increase of lift?
> I've seen adds in Roundel for 276 and 306. Any body have any thoughts?
>
> Also, if the cats. are replaced by a euro. resonator should one disconnect the
> O2 sensor so as to run slightly richer? Any thoughts relating to above
> regarding the fuel adjusting switch in the motronic box - go to setting 1 or
> 2? I believe they increase fuel by 1.2% and 3.0% respectivly.
>
> Also, any ideas on increasing the spark plug gap. What are the effects on
> power? Are there any draw backs to increasing the gap?
>
> Thanks
>
--
---

                       |            Dale Beuning           |
                       |       email: dale_at_unofficialbmw.com     |
                       | web: http://www.unofficialbmw.com |
                        -----------------------------------

Unofficial Homepages: [Home] [E12] [E24] [E28] [E30] [E34] [E36] [Z3] [E39] [E46] [X5/E53] [ALL] [ Help ]