Google Search

Search (Google!!)
Search Amazon.com
Home
E12
E24
E28
E30
E34
E36
Z3
E39
E46
X5/E53
ALL
Ron Stygar
Carl Buckland
Dale Beuning
Forums
Help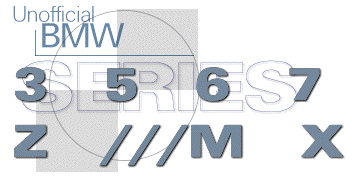 ---
---
From digest.v6.n785 Thu Jun 19 08:12:25 1997
From: "John C. Hanes" <jchanes_at_indiana.edu>
Date: Wed, 18 Jun 1997 15:12:00 -0500 (EST)
Subject: RE: eta Conforti chip

Ray and others with eta engines,
I installed a Jim Conforti EPROM from Mesa last week in my 325es, along with a K&N filter. Here are my impressions:
no effect on idle
startoff in first gear is normal (i.e. unchanged) until about 3000 rpm, and then the car takes off with a whoosh not unlike a mild turbo boost
second gear is very strong and third gear now feels like second
massive pulling power up hills in fourth and even fifth gear, with occasional ping at pedal-to-the-floorboards up a steep hill (I'm using Shell 93 Supreme)
engine is extremely willing to rev, right up past 5000 rpm, where our tachometer stops (i.e. you can "pin" the tach before you hit the rev limiter)
fuel economy is unchanged, except you can get better fuel economy at higher highway speeds than before, probably due to the increased power output (I've driven the car 1500 miles since last Thursday when I installed it, including a 1000 mile trip from Massachusetts to Indiana, where I averaged 28.3 mpg at a sustained 75+ mph for 15 hours)
I would estimate (butt-dyno only) that the engine is now putting out about 20% more horsepower and torque, which would mean about 140hp and around 200 lbs/ft of torque
the K&N filter makes the engine sound very snarly at high rpms - a very cool sound
in general, the car is MUCH more fun, especially around town
The Conforti chip took two weeks to get from Mesa to me in Massachusetts, but since I opted for UCS Ground shipping, one week of that was just getting the package from Newport Beach, CA where Mesa is to me in Massachusetts.
I'm very satisfied with the chip. I'm concerned with engine longevity now that I'm driving it a bit harder, but that's a risk I know I'm taking that's nobody's fault but my own (Jim DOES have all those disclaimers for a reason).
Thank you Jim Conforti and thank you Mesa Performance!
-John C. Hanes 1986 325es 133K Conforti-powered
Unofficial Homepages: [Home] [E12] [E24] [E28] [E30] [E34] [E36] [Z3] [E39] [E46] [X5/E53] [ALL] [ Help ]