Home
E12
E24
E28
E30
E34
E36
Z3
E39
E46
X5/E53
ALL
Ron Stygar
Carl Buckland
Dale Beuning
Forums
Help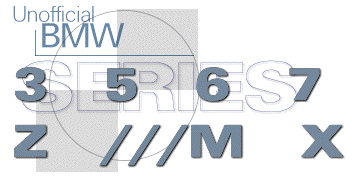 ---
Subject: Re: E30 '87 or '88 325is
To: aaron_at_ntmail.zso.dec.com (Aaron Smith) Date: Thu, 11 Apr 1996 10:42:26 -0700 (PDT) Cc: dale_at_unofficialbmw.com ()
In '88 BMW did a minor facelift of the E30. The '88 model had the larger bumbers, but starting in '89 they went to the Euro style small ones.
The elipsoidal headlights were only in '88 and '89. These lights are great as long as you put covers over them to prevent breakage, as they are very expensive to replace.
I own both an '86 325es and '89 325i, the interiors are identical, the layout under the hood is different but that might be an e vs i thing.
> I'm looking into buying one of these two cars. I'm familiar with some
> of the differences, but not all. The differences that I know of are:
> different wheels, updated front spoiler with elipsoid fog lights, and
> different tail lights at the rear. As far as looks are concerned, IMHO
> the '88 wins hands down. Are there any other cosmetic/mechanical
> differences that I should be aware of? Secondly does anyone know what
> year they came with color matched bumpers?
>
> TIA,
> Aaron Smith
> aaron_at_ntmail.zso.dec.com
Unofficial Homepages: [Home] [E12] [E24] [E28] [E30] [E34] [E36] [Z3] [E39] [E46] [X5/E53] [ALL] [ Help ]