Home
E12
E24
E28
E30
E34
E36
Z3
E39
E46
X5/E53
ALL
Ron Stygar
Carl Buckland
Dale Beuning
Forums
Help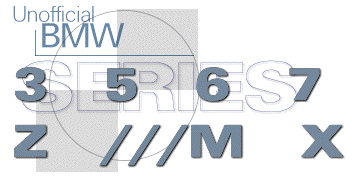 ---
---
From digest.v7.n148 Wed Aug 20 22:10:19 1997
From: Larry Schwarcz <lrs_at_hpinduf.cup.hp.com>
Date: Wed, 20 Aug 1997 18:47:37 -0700
Subject: Re: <E30> Toolbox Trivia

Eric Meyers <emeyers_at_flash.net> writes: >I drive an E30, 88 325iC, which has a triangular shaped tool box which
>hangs from the rear trunk lid. All of the tools are there except one.
>I have an empty slot/hole which sits closest to the drivers taillight
>which is uncomfortably empty. It looks like this small space could hold
>a watch face, or perhaps an extra wheel nut.
>
>Trivia Question
>
>What tool, gizmo, or supply goes in this spot? My dealer says nothing
>goes there, but I think that something must. Bonus points for a part
>number.
I also drive an E-30 325iC. I believe that the tool you and I are missing is a small socket type tool to manually open the sunroof (missing on our convertibles :-) in case the battery is dead. I think there's a small plastic plug near the front on the ceiling that can be removed. The socket fits in there.
But, I could be wrong :-).

         Hope this helps (Hey, hope I'm right!),
                   Larry.
______________________________________________________________________________
Lawrence R. Schwarcz, Software Design Engr/OSSD     Internet:  lrs_at_cup.hp.com
Hewlett Packard Company                               Direct:  (408) 447-2543
19420 Homestead Road MS 43LN                            Main:  (408) 447-2000
Cupertino, CA 95014                                      Fax:  (408) 447-2804

Internal-only WWW: http://hpinduf/
OCopywight
(c) 1997 Elmer Fudd. All wights wesewved.
---
Unofficial Homepages: [Home] [E12] [E24] [E28] [E30] [E34] [E36] [Z3] [E39] [E46] [X5/E53] [ALL] [ Help ]