Home
E12
E24
E28
E30
E34
E36
Z3
E39
E46
X5/E53
ALL
Ron Stygar
Carl Buckland
Dale Beuning
Forums
Help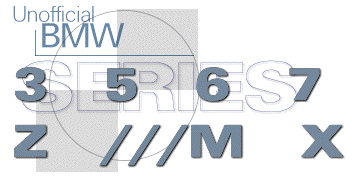 ---
---
From digest.v6.n899 Sat Jul 19 17:40:48 1997
From: Lars-Inge Tonnessen <larst_at_stud.cs.uit.no>
Date: Sat, 19 Jul 1997 16:48:31 +0200 (MET DST)
Subject: Re: Diff between 325is, es, ix, and ic ??

Hi Fred!
I have no ide about US models, but I have never found any "c" in the cabriotets manual. I was told that the US "s" model was a 2 door car with front and rear spoilers, recaro etc. I found out that this must be the M model in Europe. Front spoiler 82119403142 & rear spoiler 51712260322. E.g. 325iM, 535iM. The "s" model in Europe has a factory tuned engine and look like an ordinary "i" model and can have 4-doors. Also we can not get an "e" model here in Europe. 2-door cars in Europe is called cupes and don't have a variable for the 3-series.
Possibly why you can't buy a 321 hp M3/Z3 or 2-400+ hp Alpina in the US?
Confused that is the word!!! :-D Too many variables & laws.
Lars-Inge
'97 BMW E-36 320iA
'88 BMW E-30 Alpina B6 (based on 320i "s" or was it a "C"??? ) '91 BMW E-34 (X-car)
>All the attached is well and good except that within the 325 series in
>the US; 1) "ic" ARE convertables, 2) "is" ARE 2 door sedans, and 3) "e"
>have fuel injected engines.
Unofficial Homepages: [Home] [E12] [E24] [E28] [E30] [E34] [E36] [Z3] [E39] [E46] [X5/E53] [ALL] [ Help ]