Google Search

Search (Google!!)
Search Amazon.com
Home
E12
E24
E28
E30
E34
E36
Z3
E39
E46
X5/E53
ALL
Ron Stygar
Carl Buckland
Dale Beuning
Forums
Help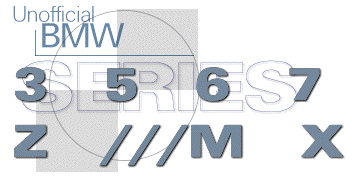 ---
---
From digest.v6.n626 Tue May 6 06:58:53 1997
From: owner-bmw_at_mailgate.wizvax.net
Date: Mon, 5 May 1997 18:39:18 -0400
Subject: [none]

Mon, 5 May 1997 17:32:05 -0500 (EST)
Date: Mon, 5 May 1997 17:32:05 -0500 (EST) From: "John C. Hanes" <jchanes_at_indiana.edu> To: BMW Digest <bmw-digest_at_mailgate.wizvax.net> Subject: <E30> difference between "e" and "es"
I have an '86 325es and I know the differences the "es" had because Ron Stygar (thanks, Ron!) mailed me copies of the original sales brochure, since I am not the original owner.
The "es" was only available as a 2-door. It had a limited slip diff, revised springs and shocks with 20% stiffer progressive rate springs and approximately 20% softer Bilstein shocks as OE, same alloys as the other E30's (6 x 14 4-bolt turbine-style) between '84 and '91 (except 'is and M3), sport seats in cloth or leatherette, power sunroof, 6-speaker premium sound system, 3-spoke "M" leather steering wheel, leather shift boot and knob, a chin spoiler with integrated fogs and brake cooling ducts, and a small trunk lip spoiler. Everything else was the same as an "e." I think I got all that right (from memory, may be slight discrepancies). Hope this helps out whoever wanted to know!
-John C. Hanes 86 325es 130K
Unofficial Homepages: [Home] [E12] [E24] [E28] [E30] [E34] [E36] [Z3] [E39] [E46] [X5/E53] [ALL] [ Help ]