Home
E12
E24
E28
E30
E34
E36
Z3
E39
E46
X5/E53
ALL
Ron Stygar
Carl Buckland
Dale Beuning
Forums
Help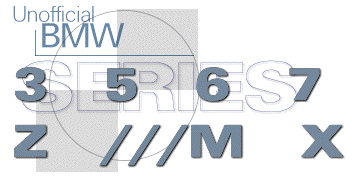 ---
---
From digest.v6.n90 Mon Jan 20 17:40:38 1997
From: Larry Schwarcz <lrs_at_hpisrhw.cup.hp.com>
Date: Mon, 20 Jan 97 09:50:08 -0800
Subject: Re: Cupholder for an E30 ??

"Andrew C. Stoffel (914) 574-4784" <acs_at_campus.com> writes: >couple features I'd like for my E30 318is - 2 cupholders & coin holder
>between the front seats.
>
>Where can I get similar things for a late model E30 ?
First off, don't even consider (even for a moment) buying the TopTrac sliding arm rest/cup holder from the dealer (e-mail me if you want more information on why I don't like mine).
For the cup holder, call Bavarian Autosport and get the one that goes right above the ash tray/lighter area. It's a piece of bent rod metal. It attaches to the mounting screws for the ashtray and holds a cup sort of in front of the fan switch. Not the best idea, but, it's the best I've found so far.
For the coin tray, get the "Oddments Tray" (P/N 72 60 1 942 786) from any BMW dealer. This tray replaces the ash tray and is an open, felt lined tray. I paid about $15 for mine from The BMW Store in OH.
I've got both of these in my '90 E-30 (325iC).

             Good luck!
                  Larry.
______________________________________________________________________________
Lawrence R. Schwarcz, Software Design Engr/NCD      Internet:  lrs_at_cup.hp.com
Hewlett Packard Company                               Direct:  (408) 447-2543
19420 Homestead Road MS 43LN                            Main:  (408) 447-2000
Cupertino, CA 95014                                      Fax:  (408) 447-2264

Internal-only WWW: http://hpisrhw.cup.hp.com/~lrs/homepage.html OCopywight
(c) 1996 Elmer Fudd. All wights wesewved.
---
Unofficial Homepages: [Home] [E12] [E24] [E28] [E30] [E34] [E36] [Z3] [E39] [E46] [X5/E53] [ALL] [ Help ]