Home
E12
E24
E28
E30
E34
E36
Z3
E39
E46
X5/E53
ALL
Ron Stygar
Carl Buckland
Dale Beuning
Forums
Help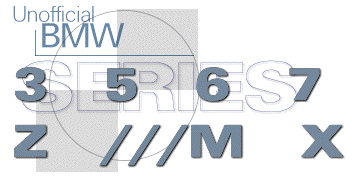 ---
---
From digest.v7.n910 Fri Jan 9 12:21:50 1998
From: "Alan Alfano"<Alan.Alfano_at_SNET.com>
Date: Fri, 9 Jan 1998 09:06:10 -0400
Subject: Re: '89 325iX Potential Buy

In v07.n908, From: Kwmitch2 <Kwmitch2_at_aol.com> <<
I was scouring the local Auto Trader and came across an ad for a '89 325iX (coupe, red ext. tan leather int., heated seats, fully loaded, manual trans, a/c, 92k,
new timing belt, service records since new, 2nd owner) and upon calling them
they said they would trade me the iX and $3k in CASH for my '90 325iCA (106k, Auto trans).
Is this a good deal? I am seriously considering the trade as it would provide a good
daily driver and allow the convenience of AWD. Is there anything I should look for on this car?
I am not to familiar with them and any input will play a critical role in my decision.
Problems I could think to look for are the transfer case, clutch, and brakes. Any other points?
Will ///Mitchell
'90 325iCA -still for sale ($11k firm)
>>

---
---
Will,
Worth and 'Book Value' is very subjective thing, but here is what I found_at_Edmunds (http://www.edmunds.com), wholesale/retail:

89 iX w/92k: $7,420 / $9,635, +/- .05 for every mile outside of the range of 97,300 to 101,300
my calculation: $7685-9900

90 iC w/106k: $9,160 / $12,215, AT-4 Transmission +140, +/- .06 for every mile outside of the range of 98,600 to 102,600 my calculation: $9096-12151

Kelleys Blue Book (http://www.kbb.com) shows: 89 iX w/92k, Connecticut Zipcode: $7200-11800

90 iC w/106k, Connecticut Zipcode: $7875-13050

The iX has all the standard E30 chassis / M20 engine challenges: timing belt, head bolts, service indicator batteries, OBC back light.

Brakes, clutch no more an issue than a std E30. Just depends on how it is driven.

iX challenges include: high appetite for front control arms (discount for $220 each vs. $80 for std E30),
transfer case seal leaking, CV joint boots, bent original BBS alloys due to extreme 48 mm offset.

Also look_at_the iX registry website: http://www.bmwcca.org/misc/iXfaq.htm Look under 'maintenance items'

Some parts are unique to just the iX (ie - more expensive). Unique parts include: shocks/struts, rear rotors, front / rear suspension, bottom of the M20 engine where the front driveshaft goes thru it (oil pump, oil pan), wheels.

Wheel offsets:

E30     6       14" =    35mm
     6.5        15"   =    30mm
     7     =    24mm
 iX           7              15"         =              48mm

Regards,
Alan Alfano
alan.alfano_at_snet.com
BMW CCA #30492
1988 BMW 325iX
1956 Austin-Healey 100M (2)
Unofficial Homepages: [Home] [E12] [E24] [E28] [E30] [E34] [E36] [Z3] [E39] [E46] [X5/E53] [ALL] [ Help ]