Home
E12
E24
E28
E30
E34
E36
Z3
E39
E46
X5/E53
ALL
Ron Stygar
Carl Buckland
Dale Beuning
Forums
Help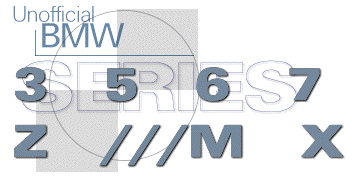 ---
---
From digest.v7.n605 Mon Nov 17 12:48:52 1997
From: "Alan Alfano"<Alan.Alfano_at_SNET.com>
Date: Mon, 17 Nov 1997 08:35:29 -0400
Subject: RE: 325iX info needed

>From: "Rich, Iva & Tom Jones" <rljon_at_pacbell.net>
>Subject: 325iX info needed
>Date: Sun, 16 Nov 1997 23:03:20 +0000
>re: '88 325iX that's a red 2dr has 114k miles
>>asking $10k
IMHO the wholesale is probably $6-7k, so at $10k there so room for a discount.
>>would like to know of all the things he should be looking at on a used
E30 iX?
Standard 325 problems: OBC, Service Indicator batteries, rear trans seal
Be aware that most suspension parts are unique to the iX and are more expensive than standard 325 parts.
325iX problems: appetite for front control arms every 80k miles. Each arm is $250 at dealer. Cheapest that I have found is at Bekkers ($161)
The iX alloys have a severe offset (47 mm) which contributes to easy bending.
E30 offsets:

   E30     6     14"   =   35mm
           6.5   15"   =   30mm
           7           =   24mm
   E30iX   6     14    =   47mm

Due to this offset, there are not to many after market wheels that will fit, as there will be a front brake caliper clearance problem.
Some people have had problems with the transfer case, it only hold 1/2 quart of ATF. Replacement can be in the $2-3k range.
I suggest that you look at the 325iX FAQ site: http://www.bmwcca.org/misc/iXfaq.htm
Additional specific questions can be refered to iX Registry founder Gordon Haines (ghaines _at_ epol.com).
Also my e-mail box is always open.
If your friend buys the iX, I highly recommend that you join the iX registry and buy all back issues. There is a ton of iX info here.
>>What kind of autoXer would an iX make, and if it will what is avalible
suspension wise for the iX? Or what do you suggest?
I do not know what kind of autoX car an iX would make. The front suspension is completely different the a normal 325. Suspension upgrade options are limited to: Dinan, Korman. These mods include: springs, shocks, sway bars.
See iX Registry site for suggestions: cutting 1 1/2 links from front springs, gas shocks, 21 mm rear sway bar. Without the beefier rear sway, the iX has a tendancy to plow straight thru corners in extreme manuevers.
I hope that this helps,
Alan Alfano
alan.alfano_at_snet.com
BMW CCA #30492
1988 BMW 325iX
1956 Austin-Healey 100M (2)
Unofficial Homepages: [Home] [E12] [E24] [E28] [E30] [E34] [E36] [Z3] [E39] [E46] [X5/E53] [ALL] [ Help ]