Home
E12
E24
E28
E30
E34
E36
Z3
E39
E46
X5/E53
ALL
Ron Stygar
Carl Buckland
Dale Beuning
Forums
Help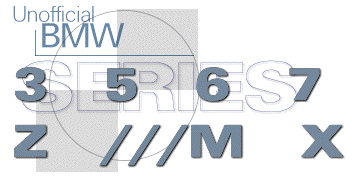 ---
---
From dale_at_unofficialbmw.com Wed Jun 11 13:57:52 1997
From: Dale Beuning <dale_at_unofficialbmw.com>
Subject: Re: 184-87 BMW 318-325?
To: KnyghtMyst_at_aol.com
Date: Wed, 11 Jun 1997 13:57:46 -0700 (PDT)
Cc: dale_at_unofficialbmw.com ()

> Wow you are the first person to write me back with any decent information.
> Thanks so much for your time. I am also curios about what you said
> insurance costs are. Is that correct that for a 1984-87 318 the insurance
> cost you the same as A 95 M3?
> How can that be? I had a 88 Rx7 turbo II a couple of years back ( great cars
> by the way) but they are very costly to insure and will only give you mid
> 20's mpg on a really good day using cruise control. As I remember the
> insurance was around 175-190 dollars per month at that time and I was 19 and
> 20 years old in age respectively. I felt that was quite a bit to pay for
> full coverage. So I will be getting a small loan for the bimmer and again
> will need full coverage ins. and I dont know how much that will amount to.
I bought my first bmw, the '84 318i in '93. It cost about $100/month in full-coverage insurance in Seattle, I was 29 at that time. Bought my second bmw, the '89 325i in '95. It cost about $110/mon for full-coverage insurance in Seattle. Bought my third BMW, the '95 M3 in '96. It costs about $120/month in insurance in Tempe (phoenix) AZ.
I think the reason is any BMW is expensive to repair...new or old. Pretty stupid it's that expensive....but that's why BMW and TIG are starting to offer insurance specifically for newer BMW owners.
> Its good to hear that the car is capable of the 30 mpg range. I have also
> read some information on other car owners repair records and it seems that
> between 80 and 110k alot of stuff needs to be done to them, ie. rear subframe
> mounts and bushings, motor and tranny mounts, tranny rear bearing seals,
> u-joints, valve adjustments, timing belts, clutch( no surprises there), etc.
Read the Survey on my E30 page and you'll get an idea what most people have done. Also, you need to do valve adjustments/timing belts/fluid changes.. but you can wait on the bushing stuff, the car won't drive like new, but if you replace the parts it will.
> You see what I mean by having to invest alot of time and money from the get
> go. I would like to hear some more about what has happend to your 84 318
> since you bought it. I dont want to sound like a moron but I have never even
> seen one around here and have no idea what its like to drive one either. So
> here is a list of questions I have for you....
The 318i looks identical to all other '84-'87 3series (318i/325e/325es/325i). So it's hard to tell them apart, also the 325 is mucho more popular in America.
> 1) You mentioned that there is no chip for the 84's is that before they went
> to fuel injection?
No. Bosch L-Jetronic Fuel Injected. Just no chip.
> 2) I really like custom exhaust, but you said to leave it stock, why? And if
> I do go with a better sounding system what will happen to the performance?
If you want the looks and the sound of aftermarket exhaust, fine, but I'd rather spend the $500 on new bushings to make the car handle ride like new. Your call. You can get the factory exhaust (a bolt in operation) for under $200. All the after market stuff in that price range (ansa) is cheap shit. And the good stuff is more like $500.
> 3) Can you give me some factory specs as to what it is like to live with a
> 318, such as engine horsepower, fuel injection types ( for the 84,85,86,87
> model years), outside dimensions ( length, width, etc), tire's wheels specs,
> transmission ratios, final drive axle, interior volume's ( trunk, front,
> rear) you get the picture. As much factory specs as you can povide me would
> be great.
I've got a book on this stuff...someday I'll get around to creating some tables for the website...until then off the top of my head:
'84-'85 318i
100hp / 100ft-lbs torque
uses Bosch L-Jet fuel injection
diff ratio: 3.64 for early '84
3.93 for late '84 and all '85 (big improvement)
'84-'87 325e/325es/325
---
120hp / 160ft-lbs torque (responds VERY well to a chip, try JimC's) uses Bosch Motronic 1.x fuel injection (exact version varies with year) diff ratio: 2.9x? for all (good upgrade opportunity)
All '84-'87 E30
wheels = 6x14 with 195R60 14 tires (pirilli P6 crapo tires are stock)

> 4) I understand they are rear wheel drive, how do they handle in snow ( or do
> you know anyone who has one and doesnt live in AZ?
> That should do it for now hope you can help, thanks, Tom

Get one with LSD and put good snow tires on it (blizzaks) and you'll have NO problem. Just don't get the car high-centered in deep snow.

hope this helps
Dale

--
---

                       |            Dale Beuning           |
                       |       email: dale_at_unofficialbmw.com     |
                       | web: http://www.unofficialbmw.com |
                        -----------------------------------

Unofficial Homepages: [Home] [E12] [E24] [E28] [E30] [E34] [E36] [Z3] [E39] [E46] [X5/E53] [ALL] [ Help ]