Google Search

Search (Google!!)
Search Amazon.com
Home
E12
E24
E28
E30
E34
E36
Z3
E39
E46
X5/E53
ALL
Ron Stygar
Carl Buckland
Dale Beuning
Forums
Help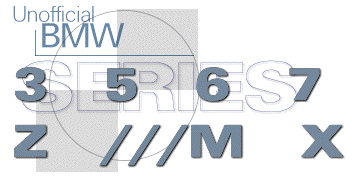 ---
---
From bclark_at_parker.com Wed Sep 17 11:12:00 1997
From: bclark_at_parker.com
id xma018269; Wed, 17 Sep 97 14:11:25 -0400
X-Lotus-FromDomain: PARKER
To: dale_at_unofficialbmw.com
Date: Wed, 17 Sep 1997 14:07:40 -0400
Subject: '89 325i Window Switches

The contacts inside the window switches of my '89 325i are constantly getting corroded and clogged with soot buildup. This causes the switches to fail, usually preventing the window from being closed.
To avoid the cost of replacement, I have discovered that the switches are easily disassembled with a small screwdriver. Once I have the switch apart, I clean the contacts (a pencil eraser works well for this) and apply a small amount of silicon grease to the contacts. The silicon helps prevent corrosion and enhances the electrical properties. The switch can then be snapped back together and re-installed in the console.
This is not a permanent solution, but it takes only a few minutes and saves the cost of replacement. I have done this several times to my window switches, and I figure I have saved $300. Hopefully, BMW has, or will, find a permanent fix for this nuisance.
Unofficial Homepages: [Home] [E12] [E24] [E28] [E30] [E34] [E36] [Z3] [E39] [E46] [X5/E53] [ALL] [ Help ]