Home
E12
E24
E28
E30
E34
E36
Z3
E39
E46
X5/E53
ALL
Ron Stygar
Carl Buckland
Dale Beuning
Forums
Help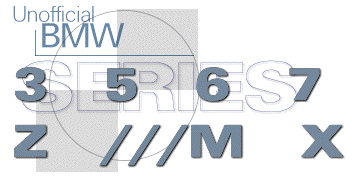 ---
---
From digest.v7.n1218 Sun Mar 1 13:49:46 1998
From: "Eric M. Hughes" <erich_at_dalton.net>
Date: Sun, 01 Mar 1998 11:41:43 -0500
Subject: Re: TEMP/OBC--'90 E30

Dan wrote:
>>From: Daniel David Ayd <Daniel.D.Ayd-1_at_tc.umn.edu>
Date: Sat, 28 Feb 1998 17:03:05 -0600
Subject: TEMP/OBC--'90 E30
I live in Minnesota and since winter has not yet left I've noticed that whenever the computer indicates an ambient temperature of ~38 degrees F or less a chime goes off and the temp flashes at me. It will do it during start up or if during the day the temp drops below that mark while I'm driving. What is this and why is it doing it? Is it a normal warning(why?) or is there something wrong?
Thanks...
Dan
1990 325i
>>
Dan,
This is a normal function. It is supposed to let you know that driving conditions may be hazardous (ice on bridges, etc.). It is however rather annoying sometimes. Like when you see snow on the road and the thing is beeping at you to let you know its cold outside. If you really hate it, I suppose you could disconnect the temperature sensor, but I'm not sure if there are any other repercussions for doing so.
My manual says the indicator goes off at +37Deg F. Mine goes off at +36 Deg F. If the temperature magically goes up to 43 Deg F, the gong will sound again.
Good luck
Eric Hughes
1991 325iC
Unofficial Homepages: [Home] [E12] [E24] [E28] [E30] [E34] [E36] [Z3] [E39] [E46] [X5/E53] [ALL] [ Help ]