Google Search

Search (Google!!)
Search Amazon.com
Home
E12
E24
E28
E30
E34
E36
Z3
E39
E46
X5/E53
ALL
Ron Stygar
Carl Buckland
Dale Beuning
Forums
Help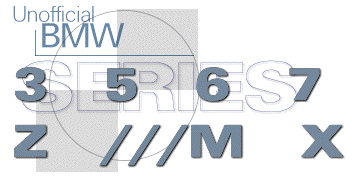 ---
---
Weak Seat frames in '84 and '85 E30s (318i and 325e) BMWs.
> Is this a problem or am I crazy? Both the passenger and driver seats on
> my '84 318i seem to lean toward the back on the center console side. Is
> there some sort of spring or link on the seat's pivot/positioning
> mechansim that can cause this?
> It almost seems like I have to sit on the right edge of the seat to
> drive in a reasonable forward facing position (well, it's not that bad
> but it's close).
> jeffa_at_sesinc.com
Hi Jeff,
I've had this problem on my old '84 318i. The upper inside seat frame snaps at the weld on the corner. It's not too bad of a job to pull the seatback off, strip off the upholstry and bring the frame to a welding shop.
Here is a list of the seat problems I've seen/fixed:
my '84 318i, drivers seatback broke in 2 places (corner and 1/2way down) fix: stripped seat down and had frame welded, good as new cost: $10 and 2 hours
friend Hanks '85 325e, drivers seatback corner and bottom frame snapped fix: stripped seat down and had frame welded, good as new cost: $20 and 4 hours
friend Dave's '84 318i, drivers seatback corner and general collapse

after he loaned the car to his heavy brother for a few weeks fix: he replaced the seat with one from an '87 or '89 325 cost: $200
The '84 and '85 E30 seem to have a real problem with the seat frame. I'd upgrade to a newer seat ('86-'91), they bolt right in, if you can afford the $200. Otherwise, start looking for a welding shop.
hope this helps...
Dale
'95 M3 4k
'89 325i 124k (perfect cloth seats)
'86 325es 111k (perfect leatherette sport seats) '84 318i 128+k (perfect structurally leather seats) (you never forget a BMW)
PS: if this is your only transportation, do the passenger side first, then install the pass. side on the drivers side with the seatbelt receiver swapped over, it fits, swap back after fixing the drivers side. Been there, done that.
---
Here is an acid test I forgot to mention for testing the seatback frame:
Lean the seatback forward as if getting in the back seat.
grasp the upper corners in your hands and twist,

push forward on one side and pull back on the other

if it twists, the frame is broken in the seatback
if it doesn't twist, the frame is broken down below
I've never seen a problem with the ratchet mechanism,

even thought that is most complex part.
---
Procedure for stripping down the seat.
Remove headrest. Should be able to just pull it straight up out of the seat.
Remove plastic levers on either side of seat back. You may need a flat-tip screwdriver to convince these things, and they may not want to stay on when you reinstall them. Fortunately they are cheap at the dealer.
Remove hard cover on rear of seatback. Two #2 phillips screws in the bottom of the hard cover, slide the cover up and off. Take care working it around the side lever(s).
Two #3(?) phillips screws hold the seat back on, remove them and lift the seat back up aprox 6", and it's off.
Remove upholstry.
Unofficial Homepages: [Home] [E12] [E24] [E28] [E30] [E34] [E36] [Z3] [E39] [E46] [X5/E53] [ALL] [ Help ]