Google Search

Search (Google!!)
Search Amazon.com
Home
E12
E24
E28
E30
E34
E36
Z3
E39
E46
X5/E53
ALL
Ron Stygar
Carl Buckland
Dale Beuning
Forums
Help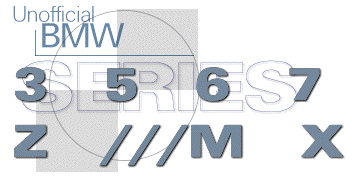 ---
---
From digest.v7.n993 Wed Jan 21 17:30:19 1998
From: "Edgington, Bill BM" <Edgington.Bill.BM_at_bhp.com.au>
Date: Thu, 22 Jan 1998 07:51:24 +1100
Subject: RE: <E30> Lighted Master Key

This message is in MIME format. Since your mail reader does not understand this format, some or all of this message may not be legible.
------ =_NextPart_000_01BD26AF.18268CC0

charset="iso-8859-1"
Phil:
Thanks for that - hadn't considered that he may have a newer style key. Ran off with the concept that he had sourced an original.
As always - YMMV
Rgds,

        -----Original Message-----
        From:   Phil Marx [SMTP:BMW_at_rlc.net]
        Sent:   Wednesday, January 21, 1998 11:54 AM
        To:     bmw-digest_at_mailgate.wizvax.net
        Cc:     Edgington, Bill BM; jwilli_at_abitasprings.com
        Subject:        re: <E30> Lighted Master Key

        Jeff Williamson said:
        >With all this talk of keys, I got a wild hair and bought a new
lighted
        >master key for the 86 325. What the hell, for 25 bucks I've
gotten a lot
        >less. This has probably been addressed before, but how is the
battery
        >changed when needed?

        Bill Edgington replied:
        >Jeff: If your key is like mine, there is a very small
indentation on the
        >bottom side of the key in the center where the two halves of
the key
        >come together.

        However since Jeff just bought his key he probably has the newer
type which
        requires pressing in on the BMW logo and sliding the entire
flashlight
        module out the left (as you are looking at the logo) side of the
key head.
        Then split the casing taking care not to break the flimsy tabs
which hold
        those two halves together and the rest will be obvious.  Most
likely the
        bulb will die before the battery.  Don't drop the key.

        Again, all this talk about keys originally was about the
center-guide or
        "laser cut" keys (E32-on) which are only properly duped by BMW
from your
        code.  Locally available for emergency use only, is my opinion.

        -Phil Marx   BMWCCA #6021

------ =_NextPart_000_01BD26AF.18268CC0
eJ8+IjMUAQaQCAAEAAAAAAABAAEAAQeQBgAIAAAA5AQAAAAAAADoAAEIgAcAGAAAAElQTS5NaWNy b3NvZnQgTWFpbC5Ob3RlADEIAQSAAQAdAAAAUkU6IDxFMzA+IExpZ2h0ZWQgTWFzdGVyIEtleQDJ CAEJgAEAIQAAADE0RjJFNDYxMkU5MkQxMTE5NzRGMDBBMDI0QjE1RDJEAPkGASCAAwAOAAAAzgcB ABYABwA4ADIABABhAQEFgAMADgAAAM4HAQAWAAcAMwAYAAQAQgEBDYAEAAIAAAACAAIAAQOQBgCg DQAAKQAAAAsAAgABAAAAAwAuAAAAAABAADkAoEjiVa4mvQEeAHAAAQAAABkAAAA8RTMwPiBMaWdo dGVkIE1hc3RlciBLZXkAAAAAAgFxAAEAAAAbAAAAAb0mpbAN1fJLfZKJEdGcowCAX2JyvAACH/AA AAIBCRABAAAACwkAAAcJAADwEgAATFpGdbBl8soDAAoAcmNwZzEyNXIyDGBjMQMwAQcLYG6RDhAw MzMPFmZlD5JPAfcCpANjAgBjaArAc4RldALRcHJxMgAAkioKoW5vElAgMAHQhQHQNg+gMDUwNBQh 8wHQFBA0fQdtAoMAUAPU+xH/EwtiE+EUUBOyGPQU0K8HEwKAApEI5jsJbzAa3/plDjA1HAodIRzf Hekb9P8eEhx/IE8gDR+PHb8cDxBg/DI4Jdom8SavJ7kb9CfivyZPKh8p3SlfJ48rVDkOUB8upDAB KCMwAAKCc3R5amwHkGgJ4HQAAAPwZBhjdGwKsQBgZGp1czFwBRBnaAVCFjIMAWOHCcAyQAMwc25l eBcwLwewBbAAwAJzcwBQc2KWMhRQMWBhE/BcawngvnALkDI4CGAycAuAZTGg/nY34AFAMtsMMDOk KAA2gJsEoAuAZyfxNCZiYRcQfmQCIDTgNIYx0DLQOhEg/jExMw5QNd827zfzAFE4fP8AoDOuOv88 BjEkD8A9Dz4fvzfzDlA4b0DPQd88MzMCgj0TEGM1oEihMtA8MHRpiTgQIEQBEGF1bAVAClAKwGEJ wGFwaCCORgIhNWQlQGZpLQ+QXjgBQDewTTMyOGILIHLPCVBOkhagTpJ3NCVBFwD+cAHQSnIy/0ef SKZM0EuQGwUQAjAtTDADYTogVEJvU/BTdWJqBZB0QVPwRGF0ZTo1ZDb/TP9OD08fUC4xwDwjDiFI oW85Ng5QUa9SvlI4ARcBIO5IPBEEkDVkN1WvVr9Xz79IoTePWT8PkGQwCNBiCrD8dDhG+g9UQ9Bb P1xGZMDzXVALUHkvTEBYMAsRXcX+czVkKABev1/PYN9QP1FP32bfZ+pUElO0VOk5Mi9tRR1kczlt n26vc+BEb2N+dQeAAjAF0EwAGgEBVTNzRDFyIW93clBrUQGAbv9UcABgCfBKoHZAAgE1IFnSLmUA 8HZAMYBwHoBcdukIkHdrC4BkZgB6ggTw/wdAEGEBQA4AayI8AnvlAhDebwVCFyES8lUAbQtRVQCw IEM6XGHzfRBrfpDOTwEgDeB50FxFAMADEPouSHB0dxAXEHJQNGFiMu54Q/GAgks0YwMgEvMAgPkF kGx2P2FEkA5wNSCCYv8BkAAggvJ60XaBAcGCYRbgnw9wAABEkAzQAZAgLhoS/4JYDlCDEktwMrCD j4Sfha+/D8BEkAWBh0+IX4lvbGYA3USQbIcPi8+M1SmF3CVAx4qvj4+MxGIgKAKRkK//gqNVkI5f kx+UL5U/gtBekP+WgoNfl++Y/4XcKACWj5wP/50fni+C0HIAmw+gn6GvorQfCvkDMHIvbV80UXtQ aK0DEDoKhQqFVIxxawQg+XlRIHQW4AVBeOFIQEwg7zvwqPALkBeAdX0gE4AFQL8FoACBBIEJgKyE MdAgAMBeea1hSvGNIDSgdwSQIGUxcyBEYHkuB/ADkW/9ASAgA/CskKyBE4CuUX+A/wUxrwZZ4bCA CGF/gDRgsVLXqVELgAdALqsMQQQgB0ANaFB5BCGs9llNTVbBqwxSZ2RzLAqFp3T7qD+pRXurDLjG YjB3lbl/j7qBNBQ04BLyYmttrCA5pJIgX3bAAxBU4WF9ei2/4k+0VQXQB5BEEGfeZb/juFun1l59 NEPhao//a59hz2LfY+9k/2YGvddTsw8MgkuQqsF2sXJ4IFsAU01UUDpCTVeSQMTQYy40oHRdwY// wpRpe8PPxN9sb6mPgiEMML+99QZgAjDLtBoivgRXCYCFNKBzrRB5LCBKAHBmdQrAr6AyMdbgL/A5 QckgMTE6NTS1oE0PuFbUaVQR1W1ibXctVzwwwRAxcEB/0mdU8S7hA/B6dmF4zYLYnzTgJENj1V5F ZLRxZ3Q7AiDW4EIDEAMgzRA7IOZqA/Df4GlAAaBKwEhA0xdwOhFzLgWgbdzP1PFPVGXVbRrwU/A8 RRQQPnwgTNMirtF2wDFwsGFLf7EAzd+oErwf0s+qGOHIY7sAQb31SgER1kDgcmF5gNcCILCAC3Bk qvY+69Cx4b8HQAMgrJAEAKyAB0BrsXHDsOK4MCBJIGd9IY0g9+BhNGAW4GkFwABwNGAG4PZ16PKw EyDGkOUj7NYAwM/lo7DxrEUTgDg2SbAOMP2xIFesorISMdDf4NbgrFLPDjDa0A5wrCFJJ0rx7zHf VQADoI0gCQDctj4xoeFw36vR7gEW4AQgF3BvSDACYP2voGIJ4bAASqAa8AQQrtF7+LB5UWXW4PVA rzF4ACD/7gKvUUgw9hHXUOzWFtEPcH2u0Xcx0AOgNKAJgAmAP/+rDN/D3xfkUQtQCJDsuOuC9VPw SbGgeQhh8pPuAcaQ/0Rgr3DGodbgshEa8PqSjSB7XXGvoHM1Me3ApRRU8Gn/7FHsUbIR7NYG4BEA FaCwgP+uke5yshIA8wRDrkB2gbBhx/yBAkGyEnR3b61hgsDfFSEF2PuHFaCuEW/BEAIS/bTNSHgA XWIFcbJx63Tokv/wZu3y8qKvUfgn9+KyErA093oi/HF/cGi7JRrwrdDwAH8VIRdwwNE8QucxBDTg AVf39nHvMPAjc8aQPDOyEnaBPxDxrEDnEDHA8UO7JW1v/mRLYAWx+jGyEjGgeHCiIP/38QChsAAC QX7iPEL0BRKy/ikFfzwCtMar4PYx0lDGkH/0FHtwEYPuMBeze3ACQW5/fSHfcNrQJfAcALIDFHBp /3mAr6B3YQKAD/P6Ue+wuyX97XBvXaEICQom8COyEvkx730w4GL4obFwYnqAxmD3YX92sB+wfTAB YviBBGj1QGz/ohAiAzww+vH5s/rKIvF2MMxuJ30w0RBvcAX2tM7/29DnMNbg7azgwBXy7rK0N5/4 gWhQAoEqIwa4LWcQ4HUFonK7JSIUgbBhdlB0yiIqZCjksDItSIAYsP8ehBdCSID4gfghekDRIK+g 3xWgekDwUa+gEnJmU8EAk++7JeGQdzAi8Ux2QCsjr9D/f+H4YRRRrGF98DngwRCycN+voEZwL9TW 4O4Bba+gJzB35zAD8bTNLcwYrVDNEUPwQ0EgI0Qw14CrDL5mR7Zhvzm7Jn0AADvwAB4AMUABAAAA EAAAAENBRURHQk02QTk4MTNCMwADABpAAAAAAB4AMEABAAAAEAAAAENBRURHQk02QTk4MTNCMwAD ABlAAAAAAAsAA4AIIAYAAAAAAMAAAAAAAABGAAAAAAOFAAAAAAAAAwAFgAggBgAAAAAAwAAAAAAA AEYAAAAAEIUAAAAAAAADAACACCAGAAAAAADAAAAAAAAARgAAAABShQAAtw0AAB4AAYAIIAYAAAAA AMAAAAAAAABGAAAAAFSFAAABAAAABAAAADguMAADAAKACCAGAAAAAADAAAAAAAAARgAAAAABhQAA AAAAAAsABIAIIAYAAAAAAMAAAAAAAABGAAAAAA6FAAAAAAAAAwAGgAggBgAAAAAAwAAAAAAAAEYA AAAAEYUAAAAAAAADAAeACCAGAAAAAADAAAAAAAAARgAAAAAYhQAAAAAAAB4ACIAIIAYAAAAAAMAA AAAAAABGAAAAADaFAAABAAAAAQAAAAAAAAAeAAmACCAGAAAAAADAAAAAAAAARgAAAAA3hQAAAQAA AAEAAAAAAAAAHgAKgAggBgAAAAAAwAAAAAAAAEYAAAAAOIUAAAEAAAABAAAAAAAAAAMAJgAAAAAA AwA2AAAAAAADAIAQ/////wIB+T8BAAAAVgAAAAAAAADcp0DIwEIQGrS5CAArL+GCAQAAAAYAAAAv Tz1CSFAvT1U9QkhQU0ZPL0NOPU1TIE1BSUwgUkVDSVBJRU5UUy9DTj1DQUVER0JNNkE5ODEzQjMA AAAeAPg/AQAAABMAAABFZGdpbmd0b24sIEJpbGwgQk0AAB4AOEABAAAAEAAAAENBRURHQk02QTk4 MTNCMwACAfs/AQAAAFYAAAAAAAAA3KdAyMBCEBq0uQgAKy/hggEAAAAGAAAAL089QkhQL09VPUJI UFNGTy9DTj1NUyBNQUlMIFJFQ0lQSUVOVFMvQ049Q0FFREdCTTZBOTgxM0IzAAAAHgD6PwEAAAAT AAAARWRnaW5ndG9uLCBCaWxsIEJNAAAeADlAAQAAABAAAABDQUVER0JNNkE5ODEzQjMAQAAHMMB+ 0C+uJr0BQAAIMMCMJhivJr0BHgA9AAEAAAAFAAAAUkU6IAAAAAAeAB0OAQAAABkAAAA8RTMwPiBM aWdodGVkIE1hc3RlciBLZXkAAAAACwApAAAAAAALACMAAAAAAAMABhD9G6YRAwAHEK0EAAADABAQ AAAAAAMAERAAAAAAHgAIEAEAAABlAAAAUEhJTDpUSEFOS1NGT1JUSEFULUhBRE5UQ09OU0lERVJF RFRIQVRIRU1BWUhBVkVBTkVXRVJTVFlMRUtFWVJBTk9GRldJVEhUSEVDT05DRVBUVEhBVEhFSEFE U09VUkNFREFOTwAAAACFhg==
------ =_NextPart_000_01BD26AF.18268CC0--
Unofficial Homepages: [Home] [E12] [E24] [E28] [E30] [E34] [E36] [Z3] [E39] [E46] [X5/E53] [ALL] [ Help ]