Home
E12
E24
E28
E30
E34
E36
Z3
E39
E46
X5/E53
ALL
Ron Stygar
Carl Buckland
Dale Beuning
Forums
Help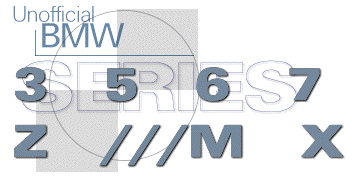 ---
---
From digest.v7.n587 Thu Nov 13 23:56:09 1997
From: danzee_at_juno.com (Dan B Zeitlin)
Date: Thu, 13 Nov 1997 20:24:08 EST
Subject: E30--jumpy temp guage

Jason asked about a jumpy E30 temp guage
There is a common E30 problem with the clamp that holds the temperature gauge to the back of the SI board coming loose wiht poor/intermittent contact and causing the temperature guage to jump. Remove the panel inspect and tighten up the clamp. There's a 90% chance that will cure your problem. I seem to recall some people adding a wired connection in parallel.I never dis, and my one-time tightening lasted another 100K miles.
>While driving along a few days ago I realized my temp needle was
>significantly up over half-way. Normally it sits just under half. A
little
>worried, I pulled over for a few minutes. When I turned the key, but
did
>not start the car, I looked at the needle and saw it jumping around,
holding
>high, dropping down to normal and back and forth. It continues to do it
now
>when I drive. Any ideas whether this could be the sensor or the gauge.
Any
>way to test either?
Dan Zeitlin, Annapolis, MD
BMW CCA #67431
<danzee_at_juno.com>
<zeitlin.d.b_at_postal.essd.northgrum.com>
Unofficial Homepages: [Home] [E12] [E24] [E28] [E30] [E34] [E36] [Z3] [E39] [E46] [X5/E53] [ALL] [ Help ]