Home
E12
E24
E28
E30
E34
E36
Z3
E39
E46
X5/E53
ALL
Ron Stygar
Carl Buckland
Dale Beuning
Forums
Help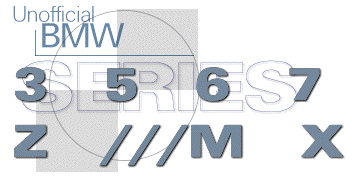 ---
---
From digest.v7.n915 Fri Jan 9 22:05:52 1998
From: bmw4curt_at_juno.com (Curtis Kiser)
Date: Fri, 9 Jan 1998 19:20:09 -0500
Subject: <E30> Re: heater core blew up...recall notice

In V7 # 892 Mr. Bolat is correct in insisting BMW to replace the heater core on his U.S. E30 with the 2.7L engines (possible 1.8's too). It seems that the National Highway Traffic Safety Admin issued a recall on the 3 series coolant system some time ago. The malfunction goes like this:
The malfunction or failure of a cooling system component results in a significantly increased coolant temperature and a resulting increase in system pressure. The consequence is when the vehicle is operated under this condition it can suffer damage or failure of parts of the cooling system such as (1) leakage from a coolant hose, (2) leakages from the radiator or expansion tank, (3) disconnection of a hose from a pipe or fitting, and (4) cracks in the heater core end piece resulting in coolant leakage. In some cases, boiling coolant can contact the lower right leg of the driver resulting in burns. Also, escaping coolant in the passenger compartment can cause vapor fogging of the windshield, reducing driver visibility. There are 375,000 cars that should be recalled.
BMW's recall number is 93V-015 and has had this fix available for some time now. Call 800-525-7417 (have your VIN# ready) and determine if it's been done before. I think this is BMW's "recall desk" or something. They will probably tell you to go to your local dealer to get the work performed. The parts list for the fix looks like this:

QTY     FP number       Description
6       07-12-9-952-111 Sp clamp
2       16-12-1-180-237 8-hose clamp
1       17-11-4-379-047 Radiator cap
1       64-11-8-367-832 T-piece
1       64-11-8-391-926 Thermostat
1       64-21-8-367-790 Hose
1       64-21-8-367-791 Hose
1       64-21-8-367-834 Hose    

Good luck with the coolant system.
And while I'm on E30 recall's, there is two more that should be mentioned.
#86V-151 is for the brake light switch. The extra center-rear brake light puts a load on the switch and it melts!
#86V-138 is for the steering coupling recall. Have them inspect the darn thing!
The NHTS has a TSB bulletin number 1310861184 dated May 86 with information on the campaign for the Idle Control Valve Calibration. We all know about the bad black boxes that controls the idle, eh?
Have fun with your dealer. They should be cooperative with this stuff. If they are, thank them. Later.
Curt Kiser
85' 535i w/Dinan chip & 86' 325 and going to Pizza Fest BMW CCA #118507 Tidewater Virginia Chapter The Kiser Division of Superconducting Metrology Applications