Google Search

Search (Google!!)
Search Amazon.com
Home
E12
E24
E28
E30
E34
E36
Z3
E39
E46
X5/E53
ALL
Ron Stygar
Carl Buckland
Dale Beuning
Forums
Help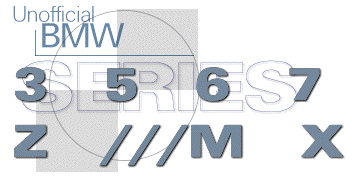 ---
> I need information on step-by-step replacement of a/c evap/core.
> I've been without a/c for a year. I have purchased a new evap/core
> and need this information to help me install it myself.
Installing the evaporator core is do-able, and I can describe the process here, but having the Bentley or Chilton guide should help.
if a/c sytem has pressure, bring it to a shop to have them charge down the

system, idealy you would bring the car back to this shop to have it charged back up. if the system doesn't have pressure, I would strongly recomend getting a new dryer, as yours is probably saturated.

remove glove box, 4 screws on the back and strap
remove rear part of console, remove rear ashtray and 10mm nut underneath
remove front part of console:

pull shift knob, comes straight up and off
remove shift boot
remove 10mm plastic nut just to the rear of the shifter
remove front ashtray, pulls out
remove front ashtray bracket, 2 #2 cross-tip screws
remove plastic screws at the front edge of the console on either side (by gas pedal and by glove box)
console is now ready to come out

remove 2 lines going into expansion valve, if your dryer has let

loose with all of it's beads, you'll find them trapped in here.

remove expansion valve from evaporator
remove evaporator
installation is reverse:

insure whoever charges your system knows what you have done to your system so they can watch for leaks in the right place
install new o-rings, cheap insurance
hope this helps
Dale
--
---

                       |            Dale Beuning           |
                       |       email: dale_at_unofficialbmw.com     |
                       | web: http://www.unofficialbmw.com |
                        -----------------------------------

Unofficial Homepages: [Home] [E12] [E24] [E28] [E30] [E34] [E36] [Z3] [E39] [E46] [X5/E53] [ALL] [ Help ]