Home
E12
E24
E28
E30
E34
E36
Z3
E39
E46
X5/E53
ALL
Ron Stygar
Carl Buckland
Dale Beuning
Forums
Help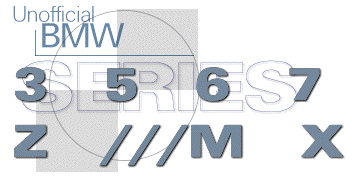 ---
---
From digest.v7.n296 Tue Sep 23 19:43:34 1997
From: Wb4vkn_at_aol.com
Date: Thu, 18 Sep 1997 10:11:44 -0400 (EDT)
Subject: Re: Cover for cracked E30 dash

In a message dated 97-09-18 02:45:28 EDT, you write:
<<
From: Bud Foley <70313.2403_at_compuserve.com> Date: Wed, 17 Sep 1997 12:07:19 -0400
Subject: Cover for cracked E30 dash
Hello,
I understand from previous posts that there are aftermarket covers for weather cracked E30 dashes.
If anyone has used a more "authentic" looking solution, my son and I would greatly appreciate the advice. The "carpet cover" may be our last resort.
Thanks!
_Bud Foley >>
<<<<<<<<<<<<< snip snip snip snip >>>>>>>>>>>>>>>
I have covered two E30s and one E23 (733i) with a product know as "Coverlay". Both Bavarian Autosport and BMP sell them for about $85 (comes with instructions). Takes about 30 - 60 minutes to fine-trim edges and glue over you cracked dash. I must say that initally they look really great, you can't determine that its installed, (unless you know what to look for). But if not installed properly (follow directions) or exposed to sun and high heat, they tend to warp. The E30s did not warp very much at all but my 733i really looks bad now probably due to the design of the BMW dash which Coverlay must allow for all the defroster and ventilation cut-outs. The E30 dash design is more solid with less cutouts. I recommend Coverlay for the E30 but not E23 (and probably not the E28). Hope this helps.
Allen Cuthrell (wb4vkn_at_aol.com)
Simpsonville, SC
91 E30 318is, 140kmiles <For Sale $9800> 86 E30 325, 150kmiles <For Sale $4700>
86 E28 528e, 190kmiles <For Sale $3900> 82 E23 733i, 220kmiles <For Sale $2000> 86 E30 325, 90kmiles (my daughter's car)
E-mail me direct for details on the above cars for sale AT: wb4vkn_at_aol.com.
Unofficial Homepages: [Home] [E12] [E24] [E28] [E30] [E34] [E36] [Z3] [E39] [E46] [X5/E53] [ALL] [ Help ]