Home
E12
E24
E28
E30
E34
E36
Z3
E39
E46
X5/E53
ALL
Ron Stygar
Carl Buckland
Dale Beuning
Forums
Help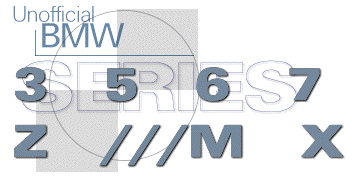 ---
---
From digest.v6.n672 Mon May 19 08:57:46 1997
From: mal_at_eauto.com
Date: Sat, 17 May 1997 18:11:28 -0500
Subject: Re: <all>Air Conditioning problems

I would like to elaborate on Brett's comments in Vol 6, No. 670 regarding <rramirez_at_salestar.com>'s posting.
If the model year of your BMW is between 1980 and 1991 (it varies among the chassis, as BMW changed to a Nippondenso compressor on certain chassis during certain model years), you have a rotary vane compressor built for Bosch and Behr. These compressors contain an elastomer called Viton. Viton disintegrates when it comes in contact with HCF134a and HFC134a-compatible lubricants.
If you do a retrofit, you HAVE to change the compressor (and the reciever dryer). The rotary vane unit WILL fail. Your options are a rotary vane remanufactured with neoprene elstomers (these compressors are hard to find), the BMW OEM replacement (this is a Seiko Seiki unit and it is expensive) or a Sanden or Zexel (aka Diesel Kiki; use of either of these last two requires a new mounting bracket, but these are easy to come by).
Hope this helps.
Malcolm Davidow
Dallas, Texas
Unofficial Homepages: [Home] [E12] [E24] [E28] [E30] [E34] [E36] [Z3] [E39] [E46] [X5/E53] [ALL] [ Help ]