Google Search

Search (Google!!)
Search Amazon.com
Home
E12
E24
E28
E30
E34
E36
Z3
E39
E46
X5/E53
ALL
Ron Stygar
Carl Buckland
Dale Beuning
Forums
Help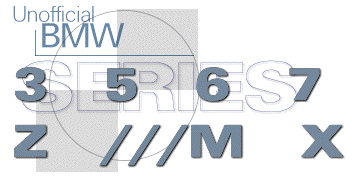 ---
---
From digest.v4.n836 Sat Jul 13 05:31:34 1996
From: "Don Schmidek" <dis_at_metricom.com>
Date: Fri, 12 Jul 96 14:44:53 PST
Subject: RE: E30 A/C and Aux fan question

TJ wrote about his AC fan:

     Here the suggested fix:  Find the AC fan relay, a four prong affair, 
     and replace it.  This relay is operated by the AC switch directly, and 
     works in parallel with the radiator sensors.  It put the fan into a 
     low speed mode.
     
     Let me know if this fixed it.
     
     Don
     DIS_at_Metricom.com


     From: TJ Noto <tjn_at_rahul.net>
     Date: Fri, 12 Jul 1996 07:50:07 -0700
     Subject: E30 A/C and Aux fan question
     
     I've been trying for several months now to get the A/C and Auxilliary 
     fan
     operational on my 87 325is and am dumbfounded at this point.  If 
     anyone has
     any ideas I'd love to hear them.
     
     Here's the situation...
     
     The A/C stopped blowing cold air a few years ago......I neglected to 
     do anything
     about it till last summmer.....at that point, I replaced the 
     Auxilliary fan cos
     it was inoperable....
     
     The aux fan is supposed to blow ANYTIME the A/C is on to prevent 
     overheating...and
     of course has two speeds when the coolant temp reaches 196 and 210 
     degrees F respectively.
     It does not ever come on under normal conditions, nor does it come on 
     after the car is 
     turned off and is sitting still.  Even in the very hot weather (95 
     degrees) we've been
     having lately.  The coolant temperature in the car is always 
     normal....even pulling 
     a Ducati-laden trailer in 90 degree heat for hours on end.
     
     The Aux fan will work on both hi and lo speeds if I jumper it....I've 
     replaced the 
     temperature sensor that goes in the radiator...
     
     I've checked both lo and hi speed relays AND their related fuses.  
     
     I've replaced the A/C/recirc switch in the dash....
     
     I've charged the system with freon and it blows cold air, and the 
     compressor cycles
     on when it needs to.....but I'm afraid that it's going to dump the 
     freon without the
     aux fan working....
     
     Any E30 owners been down this road?
     
     The Bentley manual leaves me hanging.....you can test the Aux fan by 
     jumpering the wires
     on the connector to the temp sensor.....but past that it's not much 
     good.  Interesting that
     if I jumper the green/black and black wires (supposedly lo-speed) the 
     aux fan doesn't work,
     but it clicks the compressor on....
     
     Help!
     
     TJ
     - -- 
     TJ Noto  Palo Alto  CA USA  http://www.rahul.net/tjn
     Owned by: 95 Ducati 900ss  65 MGB 87 BMW 325is 70 Triumph TR6
     "Once again Yankee ingenuity Triumphs over British craftsmenship"

Unofficial Homepages: [Home] [E12] [E24] [E28] [E30] [E34] [E36] [Z3] [E39] [E46] [X5/E53] [ALL] [ Help ]