Home
E12
E24
E28
E30
E34
E36
Z3
E39
E46
X5/E53
ALL
Ron Stygar
Carl Buckland
Dale Beuning
Forums
Help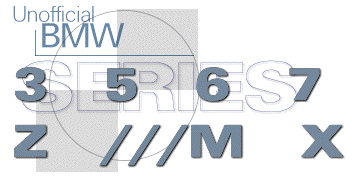 ---
---
From digest.v4.n814 Sun Jul 7 17:18:04 1996
From: Bob Hazelwood <woodyh_at_ix.netcom.com>
Date: Sun, 07 Jul 1996 17:41:20 -0400
Subject: <E30> Speedometer Failure

On my 87 325i with 147K miles, the speedo has started to fail intermittently.
>I suspect the speedo sender in the differential (LSD) is
>going awry. ...The dealer calls it a
>"Reed switch" and sells it for $38
>Matt Graham
>E-mail to mattg_at_lucent.com
I had identical symptoms with my 87 325. In my case, the new reed switch didn't solve the problem and it drove me crazy for about a year. The problem was finally solved by replacing the electrical terminals on the harness going to the reed switch. It seems that corrosion started between the wire and the terminal requiring that the terminal be removed, the wire shortened a half inch or so until I found clean copper, and replacement terminals crimped and soldered into place. I applied "Cramolin" contact preservative as extra insurance although it probably did more for peace of mind than actual protection. After that it's been fine for the past 4 years and is about to turn 230k with no indications of the problem returning.
Best Regards,
Bob Hazelwood
Unofficial Homepages: [Home] [E12] [E24] [E28] [E30] [E34] [E36] [Z3] [E39] [E46] [X5/E53] [ALL] [ Help ]