Home
E12
E24
E28
E30
E34
E36
Z3
E39
E46
X5/E53
ALL
Ron Stygar
Carl Buckland
Dale Beuning
Forums
Help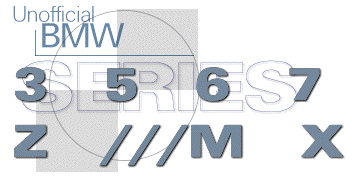 ---
---
From digest.v7.n605 Mon Nov 17 12:48:52 1997
From: "Alan Alfano"<Alan.Alfano_at_SNET.com>
Date: Mon, 17 Nov 1997 07:55:19 -0400
Subject: RE: BMW Rubber snow mats

>From: RonStygar_at_aol.com
>Date: Sat, 15 Nov 1997 03:21:27 -0500 (EST)
>Subject: <E36> BMW front rubber (Snow) mats
>
>The BMW front rubber mats part # 82 55 9 405 057 retail for $56.00. They
make use of the same hold down clips as >the carpeted mats, so they stay in place. Purchase the ones that are advertised in every car magazine and you will >be sorry.
>RonStygar_at_aol.com
I suggest using part # 51 47 1 976 780 BMW rubber front floor mats,

          retail for $35.73. Less 20 percent for BMW CCA discount = $28.58
          + ship
These are medium grey rubber with 1 inch by 1 inch little squares to hold
          sand and water. Save those nice carpet mats !
They come with hold down clips that require (in E30) drilling thru the
          floor, I skipped this step.

This is probably the last good for original BMW accessories. See BMW CCA
Roundel April 1997 page 48 for photo.
Installation instructions state that they fit: 3 series: E30, E36
5 series: E28
7 Series: E23, Z1
Regards,
Alan Alfano
alan.alfano_at_snet.com
BMW CCA #30492
1988 BMW 325iX
1956 Austin-Healey 100M (2)
Unofficial Homepages: [Home] [E12] [E24] [E28] [E30] [E34] [E36] [Z3] [E39] [E46] [X5/E53] [ALL] [ Help ]