Home
E12
E24
E28
E30
E34
E36
Z3
E39
E46
X5/E53
ALL
Ron Stygar
Carl Buckland
Dale Beuning
Forums
Help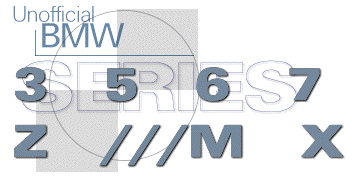 ---
---
From digest.v4.n835 Fri Jul 12 14:48:04 1996
From: Your Name <jpdarwak_at_ix.netcom.com>
Date: Fri, 12 Jul 96 13:57:46 -0400
Subject: Re: <misc> window film removal

>From: Tazz_at_aol.com
>Date: Thu, 11 Jul 1996 22:47:03 -0400
>Subject: <Misc> Removal of Window Tint Glue
>
>Can anyone offer a suggestion for the removal of the glue that remains
>once window tint has been removed. The additional problem is that it is
>on the rear window and there is the window defogger that I'd like to
>avoid damaging.
>I have used acetone and a razor blade but, that was on side windows.
>I can I avoid cutting the lines of the defroster?
Dilute pure ammonia with water in a sprayer bottle (I'd say about 50/50%). Lay cloth towels under rear window. Spray solution on window and scrub using a plastic "brillo pad". These pads are used for scrubbing non-stick pots and pans and so are safe for scrubbing glass. You will also need lots of paper towels. Whatever method you use, don't scub too hard - let the ammonia/water solution do the work. I learned this method in my detailing/window tint installing days from window film manufacturers.
John Darwak
'85 325e (155k mi.Bilstein Sportkit.ST bars.JC chip.Leaky cylinder head)
Unofficial Homepages: [Home] [E12] [E24] [E28] [E30] [E34] [E36] [Z3] [E39] [E46] [X5/E53] [ALL] [ Help ]