Google Search

Search (Google!!)
Search Amazon.com
Home
E12
E24
E28
E30
E34
E36
Z3
E39
E46
X5/E53
ALL
Ron Stygar
Carl Buckland
Dale Beuning
Forums
Help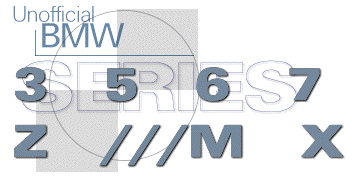 ---
---
From digest.v7.n828 Thu Dec 25 05:20:36 1997
From: John Firestone <john.firestone_at_nordkom.netsurf.de>
Date: Thu, 25 Dec 1997 06:20:39 +0100 (MET)
Subject: Re: <E36/2>Vent Windows/FireE/LampWashers

Greg Koenig (and his elk) write:
>
> In an attempt to make my car all "Euro Cool" by installing all the
> nifty European toys that come standard that we loose out on, I was
> wondering if any of you have information on retrofitting the
> following....
Yeah, I do, but all the things you list are not entirely standard in Europe either. On some of them, you have to pay good money when you order them as options.
> . . . In Europe, I understand that there are electronic vent windows
> that open at the touch of a button, a cool idea. I know someone out
> there has done this because in the FTP section of the E36 Unofficial
> Home Page, there are a few install notes. Check them out at:
http://www.unofficialbmw.com/e36/electrical/e36_installing_elec_vent_windows.html
Those are probably my notes from adding them to a '96 318is. The vent windows are neat but I would not trouble to put them in unless you plan to take the car apart for some other reason, for example, to rewire the audio system or to re-enable the rear fog lights.
> Anyone know the story on BMW option order # 354 Green band windshield?
> Does this replace the blue tint on the windscreen with a blue one? If
> so, why?
I believe green band windshields are standard on U.S. market 3ers. Elsewhere, you often have to pay extra.
-John '96 318is john.firestone_at_nordkom.netsurf.de
Unofficial Homepages: [Home] [E12] [E24] [E28] [E30] [E34] [E36] [Z3] [E39] [E46] [X5/E53] [ALL] [ Help ]