Home
E12
E24
E28
E30
E34
E36
Z3
E39
E46
X5/E53
ALL
Ron Stygar
Carl Buckland
Dale Beuning
Forums
Help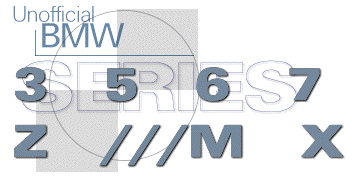 ---
---
From digest.v6.n788 Thu Jun 19 16:10:06 1997
From: Mpotheau_at_aol.com
Date: Thu, 19 Jun 1997 10:14:25 -0400 (EDT)
Subject: Sticking power antenna

BMW (and anyone else who uses a similar antenna) specifically tell you NOT to lubricate the antenna. They have one shot packages of antenna cleaner. This stuff seems to contain isopropyl alcohol and is really quite similar to the hand wipes you are given in an Oriental Restaurant.
The antenna goes up and down as a result of a nylon (or something similar) cable pushing it up. On most BMWs the cable is smooth on one side and has gear teeth on the other side. Take the antenna out and apart and realign the cable. You may find some of the teeth have disappeared as a result of the antenna offering resistance (snow or buildup of crud due to use of lubricant) which has stripped teeth. The second type of antenna has a smooth cable and it is raised as a result of the surface on the drive wheel. The sheathing on this cable tears and motor slip.
Both antenna masts are available for about $25-30 US complete with the cable.
Michel Potheau BMWCCA#0000002 BMW Club France #0000013 mpotheau_at_aol.com
++++++++++++++++++++++++++++++++++++++++++
[blank] ? We don't need no stinkin[blank]!
fill in the [blank]
Unofficial Homepages: [Home] [E12] [E24] [E28] [E30] [E34] [E36] [Z3] [E39] [E46] [X5/E53] [ALL] [ Help ]