Home
E12
E24
E28
E30
E34
E36
Z3
E39
E46
X5/E53
ALL
Ron Stygar
Carl Buckland
Dale Beuning
Forums
Help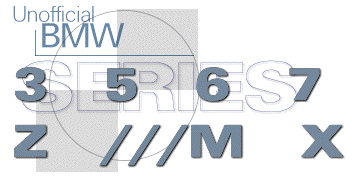 ---
---
From digest.v7.n251 Wed Sep 10 11:59:22 1997
From: Frank M Wong <fmwong_at_almaak.usc.edu>
Date: Wed, 10 Sep 1997 08:42:14 -0700 (PDT)
Subject: <E30 rear window shattering

With regards to your rear window shattering:
I use to have an 87 325e until I sold it to my friend's brother. Well one day, my friend tells me that the rear window shattered after he turned on the rear window defroster. In the process, he heard a loud "pop". He brought the car to the dealer and the dealer thought that was really strange. The car was out of warranty by a long shot but the dealer said he would call BMW to find out why this happened. As it turned out, BMW said they would fix it even though it was out of warranty.
Who knows, maybe your dealer would be willing to bat for your window.
Frank.
94 325is.
>
> From: John Van Houten <jvanhout_at_ix.netcom.com>
> Date: Tue, 09 Sep 1997 16:17:16 -0500
> Subject: <E30> Rear Window
>
> Something interesting happened to me today, my rear window decided to
> spontaneously shatter last night. What a welcome sight in the morning!
> My first thought was that someone took a baseball bat to it, but there
> was no visible sign of any impact. Any thoughts on what may have caused
> this? Could it be air pressure from closing the door (the sunroof
> "burps" up when I close the door) and I just didn't notice?...seems
> unlikely. Possibly someone giving me a could knock trying to parallel
> park? If it was vandals, it can be avoid with off the street parking
> (to follow soon), but I'd like to know a legitimate reason so it can be
> prevented from happening again.
>
> TIA
>
> Remove NOSPAM to reply
>
>
> ------------------------------
Unofficial Homepages: [Home] [E12] [E24] [E28] [E30] [E34] [E36] [Z3] [E39] [E46] [X5/E53] [ALL] [ Help ]