Home
E12
E24
E28
E30
E34
E36
Z3
E39
E46
X5/E53
ALL
Ron Stygar
Carl Buckland
Dale Beuning
Forums
Help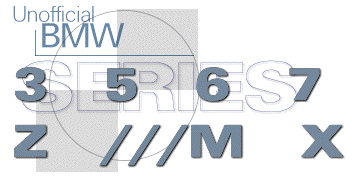 ---
---
From digest.v6.n517 Sat Apr 12 04:09:34 1997
From: "Brett Anderson" <Bretta_at_webspan.net>
Date: Fri, 11 Apr 1997 23:37:44 -0400
Subject: Re: <E30> power top questions

>
> From: "Scott Massey" <smassey_at_inputgov.com>
> Date: Thu, 10 Apr 1997 15:34:04 -0400
> Subject: <E30> power top questions
>
> I have a friend shopping for a 91 and newer 325iC. Several of the newer
> ones he has looked at had power tops that were not functioning. Is this
a
> common problem with the power tops? What is involved in fixing the
problem?
>
> Thanks
> Scott
> 89 325i
> 87 325iC
>
>
The only major problem with E30 convertible tops is the owner. People are generally lazy, and you cannot afford to be with this setup. Failure to raise the front of the roof far enough results in the actuating rod being bent by the motor. Strong motor, considering the rod is 1/2 inch thick steel and gets bent like a pretzel. I have seen the damage extend to the top motor also, occasionally it will strip out the drive mechanism, makes it sound like a ratchet when it should be stopping.
The other problem is that the top needs to be synchronized by hand if the drive motors are ever disconnected. As opposed to an E36 which can be done from the drivers seat. Pretty much a dealer only job and will definitely cost and hour or two.
Funny thing about E30 convertibles, they still occasionally turn up for warranty work, we have to be careful not to supply an estimate to a customer for work that is still under warranty , deceptive but some 93 E30 convertibles were still being sold in early 94.
Brett Anderson
BMW and ASE master technician
Bretta_at_webspan.net
Unofficial Homepages: [Home] [E12] [E24] [E28] [E30] [E34] [E36] [Z3] [E39] [E46] [X5/E53] [ALL] [ Help ]