Home
E12
E24
E28
E30
E34
E36
Z3
E39
E46
X5/E53
ALL
Ron Stygar
Carl Buckland
Dale Beuning
Forums
Help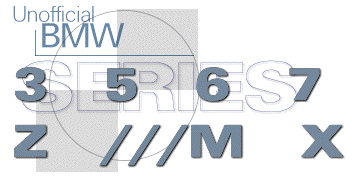 ---
---
From digest.v6.n810 Tue Jun 24 17:11:02 1997
From: Larry Schwarcz <lrs_at_hpinduf.cup.hp.com>
Date: Tue, 24 Jun 1997 13:26:22 -0700
Subject: Re: rear window on 325iC

John Metzger <jmetzger_at_luminous.com> writes: >To get the rear window replaced is around $500 at a good auto upholstery shop.
Assuming that the whole top doesn't need replacing, many (if not all) of the factory BMW tops have zip in windows. You'll need some special tool to unzip it, but, it's supposed to be a pretty quick and easy job.
I just called a local BMW dealer (Fremont, CA) and they quoted me a price of $247.64 for the top (before BMW CCA discount). So, with some shopping around, you should be able to find the replacement window for under $200. One local upholstery shop even can install an aftermarket window that's tinted darker. They said that it should take them about an an hour to an hour and a half at $56/hour.
So, you should be able to get the factory window replaced for under $300.

          Good luck!
             Larry.
______________________________________________________________________________
Lawrence R. Schwarcz, Software Design Engr/OSSD     Internet:  lrs_at_cup.hp.com
Hewlett Packard Company                               Direct:  (408) 447-2543
19420 Homestead Road MS 43LN                            Main:  (408) 447-2000
Cupertino, CA 95014                                      Fax:  (408) 447-2264

Internal-only WWW: http://hpinduf/
OCopywight
(c) 1996 Elmer Fudd. All wights wesewved.
---
Unofficial Homepages: [Home] [E12] [E24] [E28] [E30] [E34] [E36] [Z3] [E39] [E46] [X5/E53] [ALL] [ Help ]