Home
E12
E24
E28
E30
E34
E36
Z3
E39
E46
X5/E53
ALL
Ron Stygar
Carl Buckland
Dale Beuning
Forums
Help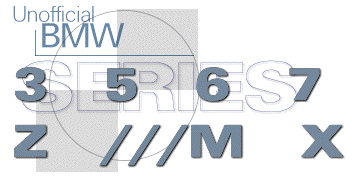 ---
---
From digest.v6.n761 Thu Jun 12 08:49:48 1997
From: MBrown1003_at_aol.com
Date: Wed, 11 Jun 1997 21:47:51 -0400 (EDT)
Subject: Zymol wheel cleaning & protection kit

Fellow Digesters....FYI:
I bought the above-named kit recently, and finally got a chance to clean my wheels with it ('97 E39 528i with the premium pkg wheels). It's a two-stage process. First you use their cleaner, then you spray on and buff the protectant.
That was about 3 or 4 weeks ago. I washed the car last night. The front wheels were black with brake dust. I hosed them off -- didn't even touch them -- and they went right back to sparkling clean. I was amazed...I didn't even have to wipe with a rag or wash them, they went right back to completely clean.
I only wish I had gotten this stuff onto the wheels when I first got the car. There's some residual dirt I didn't get off the first time (patience is not my strong suit), so it's still somewhat visible. I'll probably re-do the protectant after I have the car detailed at some point in the future....and that will hopefully make it so I can always have dust-free wheels!
=> Mitch Brown
'97 E39 528i, aubergine/aubergine, 5-speed, nav system, most everything else, too.
"The Atomic Eggplant"
Unofficial Homepages: [Home] [E12] [E24] [E28] [E30] [E34] [E36] [Z3] [E39] [E46] [X5/E53] [ALL] [ Help ]