Home
E12
E24
E28
E30
E34
E36
Z3
E39
E46
X5/E53
ALL
Ron Stygar
Carl Buckland
Dale Beuning
Forums
Help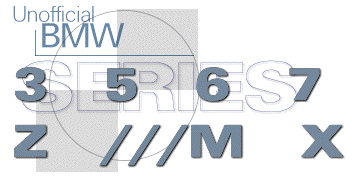 ---
---
From digest.v7.n217 Tue Sep 23 19:56:27 1997
From: "Andrew C. Stoffel (914) 574-4784" <acs_at_campus.com>
Date: Thu, 04 Sep 1997 00:53:14 -0500 (EST)
Subject: <SUMMARY> Re: Zymol longevity question

Thanks to the following for answering my questions about Zymol:
Jonathan Farber <jonathan.farber_at_gs.com>

    Joseph Koral     <jkoral_at_realworld.com>
    Scott Blazey     <edpm3_at_earthlink.net>
    Phil Marx        <BMW_at_comet.net>
    Dean Schreier    <Dean.Schreier_at_pscmail.ps.net>
    Joe Marko        <joe_at_hms-motorsport.com>

Haridev T. Vengateri haridev_at_stanford.com Jonathan Farber <jonathan.farber_at_gs.com> Joe G. Thompson <joe_at_eek.mv.com>
All answers were serious and chock full of actual content.
*Disclaimer: I don't sell ANY car related products or have any financial stake in any car related ventures and, as always, YMMV
The following is a SUMMARY of the 8 messages I received... no commercial endorsement or money under the table was involved. Anyone who wants to know where I eventually purchase the stuff & for how much, & what I think about it can e-mail me privately)
As far as the longevity of an 8 oz. container of zymol I received the following tidbits:
General Comments:
"it should last damn near forever. It doesn't take much to wax a BMW."
Zymol Carbon:
Zymol Creme:
"Turtle"-mol Cream ("Zymol" labeled Turtlewax) :
The idea is just too horrible to contemplate even estimating it's use.
For best results, don't use it
Places to purchase it in NH:
Bavarian Autosport (one gentle reader thought I was being negative regarding these folks.... quite the contrary, they just happen to be the only organization I was aware of selling the stuff in NH so they're my only reference point.)
Mike Cooney might sell it at his used BMW/Volvo store in Concord
Tulley BMW in Nashua, NH
Places outside of NH:
HMS Motorsport in Marblehead MA (Not quite in NH but close enough for my purposes - NH is not a large state)
Zymol - directly from the source - (Not close enough) 10-15% discount if you order from the Web
Phil Marx will give you a pretty good price on zymol stuff. (No, Phil Marx didn't recommend himself. His recommendations were for geographically closer people.)
Barbara Bissett at Performance Automotive, Inc. in Glastonbury, CT. apparently has info on New England area zymol distributors
And just to be fair - Other mentioned Products are known to be available from:
Blitz Wax -> Larry Reynolds at Car Care Specialties in NJ.
Turtle-mol -> K-mart, Wal-Mart, and other fine
high-volume automobile care product vendors.
Meguiars was also mentioned but a source wasn't (though I believe I've seen it in the Bavarian AUto catalog)
Hope this helps other bimmer-philes about to follow the same zymol-coated trail.
Unofficial Homepages: [Home] [E12] [E24] [E28] [E30] [E34] [E36] [Z3] [E39] [E46] [X5/E53] [ALL] [ Help ]