Google Search

Search (Google!!)
Search Amazon.com
Home
E12
E24
E28
E30
E34
E36
Z3
E39
E46
X5/E53
ALL
Ron Stygar
Carl Buckland
Dale Beuning
Forums
Help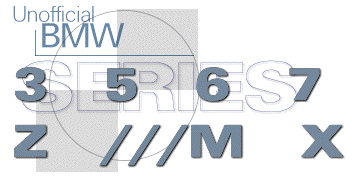 ---
---
---
From digest.v4.n759 Sat Jun 22 17:08:43 1996
From: fithian_at_epix.net (Ephraim Fithian)
Date: Sat, 22 Jun 1996 10:18:05 +0100
Subject: <Wax> P21S

I have used Zymol on my 325i E36 and 530i E34 since new and have been very pleased with the results. Recently, I read about P21S wax in the Roundel. I have been using their gel wheel cleaner, which works well with regular use, especially on the cross spoke 530i wheels. While visiting Auto Addictions in Allentown, PA, where I buy most of my high-end car care stuff, the owner, Doug Van Scyoc, said that he was carrying the P21S wax, and he distributes it to smaller car care stores. He had tried it on his 635csi and his daughter's 325i, his workers had also tried it, and they all preferred it to Zymol, even though it was less expensive ($27).
Doug noted that the preferred method of application was by hand with no applicator. He also gave me a survey of side-by-side testing by present Zymol users that was conducted in late 1995, indicating that 60% felt it was as good as or better than Zymol.
My 530i is for sale (see below), so it sits in the garage and gets waxed often. I tried the P21S wax on the 530i and was very pleased with the results. Using the hand applicator approach, I used an insignificant amount of the wax to do the entire car, which took about an hour to complete. The wax goes on easily, and is easily buffed off with a white cotton flannel ($3/yard at the dry goods store). There is no white residue where the wax touched the rubber or plastic parts of the car. The car must be clean to begin with, and I used the Zymol cleanser, although P21S also makes one.
Try it.
530i For Sale, photos on web page_at_http://www.kutztown.edu/~fithian/
I must sell this car in the next two weeks to make room for the 1997 528i that I picked up in Munich on May 24; otherwise, it goes to the dealer at wholesale.
1995 530i VIN WBAHE1329SGE54720. Oxford green with parchment leather, 5-speed manual, non-smoker, always garaged, no dings or accidents. ASC+T, computer, alarm, CD, portable phone connection, synthetic oil, P21S wax, 24k miles, 100k/6 year factory warranty. $32,000. (610) 395-0676. (near Allentown, PA)
This car has had all maintenance upgrades from the dealer. I change the oil and filters, using either Mobil 1 or Castrol Syntec 5W50. The standard equipment includes A/C, PS, PB, ABS, power seats, cassette stereo and 6 CD changer with 220 watts and 10 speakers, foglights, full leather (even on doors). V8 engine with 215 hp, good for 0-60 in 7 seconds. Redlines at 6500-7000 rpm. Top speed electronically limited to 128 mph. BBS style alloy wheels with MXV4 energy Michelin tires about half worn. BMW electronic remote security system. Good handling, gas mileage from 20 to 24 mpg.
Ephraim Fithian fithian_at_epix.net
92 E36 325i 5-speed 79k, 95 E34 530i 5-speed 24k Previous 78 530i 192k, 84 318i 18k, 85 535i 117k At Port Newark: E39 528i 5-speed with 563 miles.
Unofficial Homepages: [Home] [E12] [E24] [E28] [E30] [E34] [E36] [Z3] [E39] [E46] [X5/E53] [ALL] [ Help ]