Home
E12
E24
E28
E30
E34
E36
Z3
E39
E46
X5/E53
ALL
Ron Stygar
Carl Buckland
Dale Beuning
Forums
Help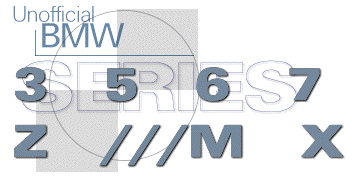 ---
---
From daniel_at_looker.com Thu Sep 24 14:12:11 1998
Date: Thu, 24 Sep 1998 14:13:12 -0700
From: Daniel Grambihler <daniel_at_looker.com>
To: dale_at_unofficialbmw.com
Subject: [Fwd: Steve's Detailing Tip of the day]

Date: Thu, 24 Sep 1998 17:07:21 -0400
From: Steve Levine <stevertr_at_stevelevine.com>
Newsgroups: alt.autos.ferrari
To: "ferrari_at_softhome.net" <ferrari_at_SoftHome.net> Subject: Steve's Detailing Tip of the day

OK... here's another one for ya...
When getting ready to wax the car, place the container of paste wax (Zymol etc..) in a pot of boiling water on the stove for 2 minutes. It will liquify the wax a little bit and make it much easier to apply thoroughly. Just don't overdo it. It goes on soooo easy, that it's really easy to put on too much. Makes it a bitch to get it off once it's dry.
By the way, one last one for you. (BE CAREFUL).
To remove wax from the chrome logo details, try warming the area up with a blow dryer, then using either a Q-Tip or toothbrush to remove the wax. Don't heat the area up too much, just enough to soften the wax up for removal.
Ciao,
Steve Levine
http://www.remaxrelocation.com/car.htm
Unofficial Homepages: [Home] [E12] [E24] [E28] [E30] [E34] [E36] [Z3] [E39] [E46] [X5/E53] [ALL] [ Help ]