Home
E12
E24
E28
E30
E34
E36
Z3
E39
E46
X5/E53
ALL
Ron Stygar
Carl Buckland
Dale Beuning
Forums
Help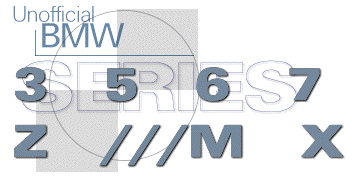 ---
---
---
From digest.v6.n179 Thu Feb 6 08:32:38 1997
From: Paul Drawmer <73064.1461_at_CompuServe.COM>
Date: 06 Feb 97 02:46:52 EST
Subject: <Z3> <Z1> top care

>From the hand book of my Z1..
Reinigung und Pflege des Roadster-Verdecks:
Aussehen und Lebensdaur de Verdecks ...
Park car in shade.
DO NOT USE AUTO CAR WASH
Do not fold and store top when wet
Do not leave folded away for long periods
Remove bird s**t straight away
Before washing remove surface dirt by brushing with the nap with a dry natural hair brush
If top is not very dirty just use plain water
If you have to remove stubborn stains, use mild (alkali-frei) detergent applied with with a sponge or soft brush applied in the direction of weave. (concentration 1 dessert spoon mild detergent to 1 litre water)
rinse with jet of clean water until all soap has been removed.
Do not wash top every time the car is cleaned
never use solvent based cleaners. (thinners, gasoline, toluene, etc)
Rear window (plastic on the Z1). Clean only with soft antistatic cloth and diluted window cleaning agent, diluted methylated spirit, or alkaline washing solutions.
Make sure that such cleaning agents do not come in contact with soft soap. (Best we avoid that too!)
It goes on, but I guess you get the picture. My '89 soft top has been well cared for by the previous owner and the top is tight, dry and draught free up to as fast as the car will go.
Paul Drawmer
Banbury UK
'89 Z1
Unofficial Homepages: [Home] [E12] [E24] [E28] [E30] [E34] [E36] [Z3] [E39] [E46] [X5/E53] [ALL] [ Help ]