Home
E12
E24
E28
E30
E34
E36
Z3
E39
E46
X5/E53
ALL
Ron Stygar
Carl Buckland
Dale Beuning
Forums
Help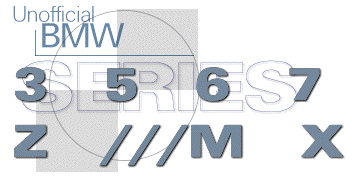 ---
---
---
From digest.v6.n797 Sat Jun 21 04:48:06 1997
From: <"BJB _at_ MEGUIARS (B.J. Birtwell)%Meguiars Inc."_at_mcimail.com>
Date: Sat, 21 Jun 1997 05:26:04 -0400
Subject: Re:how to clean clear plastic w

MHS: Source date is: 20-Jun-97 18:29:39 PST
Louis:
Clear plastics are a very delicate surface. They can become quite easily scratched.
If you have some light surface scratches they can be removed with Meguiar's #17 Clear Plastic Cleaner and then followed by #10 Clear Plastic Polish. It may take a couple of applications, but if they are minor, these products will remove them. Then in the future, use #18 Clear Plastic Cleaner Polish for daily removal of surface contaminants that fall on the window. This is also an ideal product to use right before you put the top down. A lot of your scratches result from putting the top down before wiping the window off with a product like #18. When the window bends inward the surfaces rub together creating light surface scratches. #18 should prevent that.
If you or anyone else have any further questions feel free to e-mail me personally.
B.J. Birtwell
bbirtwell_at_meguiars.com
Unofficial Homepages: [Home] [E12] [E24] [E28] [E30] [E34] [E36] [Z3] [E39] [E46] [X5/E53] [ALL] [ Help ]