Home
E12
E24
E28
E30
E34
E36
Z3
E39
E46
X5/E53
ALL
Ron Stygar
Carl Buckland
Dale Beuning
Forums
Help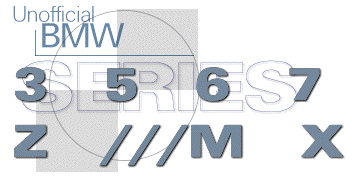 ---
---
---
From digest.v7.n1290 Thu Mar 12 12:32:52 1998
From: "jason h. leung" <jleung20_at_flash.net>
Date: Thu, 12 Mar 1998 09:43:30 -0600
Subject: Clarification of automobile paint manuf.

Here is a clarification of my findings on automotive paint for those that have asked:
Three German brands are:
Standox
Glasurit
Spies Hecker
I've gotten conflicting information on which Auto manufacturers (Benz, BMW, P-car....etc.) use which brands as OE, and whether they use a single brand or not.
Anyways, Glasurit seems fairly common on BMWs in NA. Because we seem to complain that Glasurit paint is rather soft and chippable, Duane recently refinished his car w/ Standox paint (which is supposedly MB's paint of choice in NA.) I on the other hand have chosen to reshoot my fender and front bumper cover with Spies Hecker, based on nothing but the opinion of my body shop that Spies Hecker is "has less American ingredients and is of higher quality than Standox." That's only an opinion.
Anyways, what is interseting to note here is that while both Standox and Spies Hecker are owned by the Hoechst Group, an enormous group of associated companies that specialize in life sciences and industry, Spies Hecker and Standox really duke it out in the marketplace. Who knows.
Anyways, the following are links to each manufacturers site:
http://www.glasuritnet.com
http://www.standox.com
http://www.spieshecker.com
and for the hoechst group, http://www.hoechst.com
-- Jason Leung 92 325iK jleung20_at_flash.net http://www.flash.net/~jleung20
Unofficial Homepages: [Home] [E12] [E24] [E28] [E30] [E34] [E36] [Z3] [E39] [E46] [X5/E53] [ALL] [ Help ]