Home
E12
E24
E28
E30
E34
E36
Z3
E39
E46
X5/E53
ALL
Ron Stygar
Carl Buckland
Dale Beuning
Forums
Help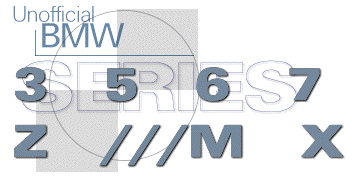 ---
---
From digest.v6.n866 Thu Jul 10 08:34:56 1997
From: Ephraim Fithian <fithian_at_epix.net>
Date: Wed, 9 Jul 1997 20:53:30 +0100
Subject: <E30> Water Pump Replacement Fun

My daughter's 85 318i 5-speed 4-door began leaking antifreeze from the water pump after all of the other leaks were fixed.
First step was to find a price on a rebuilt water pump. Some of the Roundel advertisers listed the part for about $24. These are made in some unknown country and are of questionable origin.
Bimmer Parts wanted $66 for a BMW rebuilt unit that I decided to go with. BMW store in Cincinnati was about same price. Unit lists for $79 in the BMW Price List Book.
Not wanting to get my hands dirty. I checked the local BMW dealers and an independent shop. The dealer in Doylestown, PA, said they wouldn't be able to look at the car for 2 weeks due to the holiday (July 4). The dealer in West Chester, PA, said, "Bring it in this afternoon. We'll get it done today." They wanted $102 for the rebuilt pump and 1.8 hours of labor. The independent shop in King of Prussia, PA wanted 2.5 hours of labor plus an unstated amount for the pump itself.
Since it looked like it was going to cost my money-deficient daughter about $300, I decided to do it for her. Big mistake!
Bimmer Parts is about 30 minutes away, so I gave them a day to get it and drove down to pick it up. They even took back a pair of 318i brake drums (remember those?) that I had purchased from them about 2 years ago. The return paid for the pump and a new air filter with some $6 left in change.
Fortunately, I had the E30 factory manual available, although the instructions were rather short, sort of like, "Use special tool X2R34Z-7......" So I pretty much ignored the instructions and just dived in. Since I don't have special tools, I figured it might take a little longer. 4 hours later, having finally figured out all of the little things that all BMW mechanics know, the pump was installed.
I filled it up with antifreeze and started her up. Everything was perfect, except for this stream of antifreeze that was flowing from the bottom of the water pump onto my garage floor. The gasket had a crimp in it.
The second installation only took about, let's see, 1.8 hours, since I know knew all of the shortcuts. The gasket is now encased in permatex and no longer leaks.
Moral of the story - pay the man to do it or plan on spending 4 times as much time doing it.
Ephraim Fithian <fithian_at_epix.net> http://www.epix.net/~fithian 92 E36 325i 5-speed 84k, 97 E39 528i 5-speed 24k. Previous 78 530i 4-speed 192k, 84 318i 5-speed 18k, 85 535i 5-speed 117k, 95 530i 5-speed 24k. BMWCCA, NMA, Macintosh, Eastern PA.
Unofficial Homepages: [Home] [E12] [E24] [E28] [E30] [E34] [E36] [Z3] [E39] [E46] [X5/E53] [ALL] [ Help ]