Home
E12
E24
E28
E30
E34
E36
Z3
E39
E46
X5/E53
ALL
Ron Stygar
Carl Buckland
Dale Beuning
Forums
Help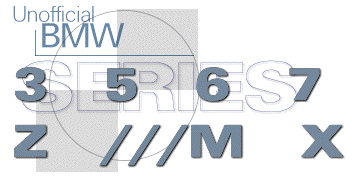 ---
Date: Fri, 05 Feb 1999 14:17:52 PST
From: "Bret Luter" <bretluter_at_hotmail.com>
Subject: E30 Motor mount failures + Solutions<long>

I've been meaning to post this for a while now, you may have already heard of this but it's good info anyway.
Many E30's have had motor-mount failures that often rears its ugly head after even minimal track usage. During one BMW CCA school last fall there were AT LEAST 3 failures that I know of personally. If motor mount failure occurs on a pre-'88 6-cyl E30, the engine is able to tilt and the power steering pump pulley cuts into the lower radiator hose and spews coolant all over the track/road. ('88 and up 6 cyl cars have an "improved" cooling system and the hoses are routed differently.)
There are several ways to prevent this problem. A well-known BMW Tuner sells "improved hard-rubber" motor mounts for 6 cyl E30's. Since the price was little more than stock replacement mounts, I ordered a set. Imagine my suprise when what I got was a set of STOCK BMW mounts for early 5/6/7 series. Yes, they were indeed beefier than the stock mounts and they work fine but I was under the impression I was getting some sort of "special" part. I would have been more impressed if this "tuner" had just told me, "hey, the hot set-up is to use the early 5/6/7 series mounts" instead of leading me to believe they had some parts specially made up and then sending me stock BMW parts.
For those of you who have NOT checked your motor mounts recently, I suggest you do so ASAP. The common failure is for the mount to split thru the middle or for the top or bottom metal plate to separate from the rubber. If you have a pre-'88 6-cyl E30 that you plan to take to a driver's school or autocross, check your mounts AND make sure you pack a spare lower radiator hose just in case!
For everyone's info, the stock mount for all 6-cyl E30's thru '91 is BMW part #11 81 1 132 323. The "beefier" mount part number is #11 81 1 132 322. The only change that must be made is that you have to grind off the alignment "nub" on one end of the mount (next to the threaded stud). (Hint- if you plan on carrying a spare set of these mounts, MAKE SURE you grind off the nub before you pack them in your tool box!!!).
I've seen an additional upgrade that another tuner is offering that consists of aluminum "cups" that surround the mounts and keep them from shearing apart. I am in the process of having some of these made up at a local machine shop. Let me know if you are interested and we might be able to get a quantity discount!!! (please e-mail privately)
Bret Luter, Raleigh, NC
BMW CCA 52894
Lots of BMW cars + A couple of R90s'
(and always carrying a spare hose and motor mounts!)
Unofficial Homepages: [Home] [E12] [E24] [E28] [E30] [E34] [E36] [Z3] [E39] [E46] [X5/E53] [ALL] [ Help ]