Home
E12
E24
E28
E30
E34
E36
Z3
E39
E46
X5/E53
ALL
Ron Stygar
Carl Buckland
Dale Beuning
Forums
Help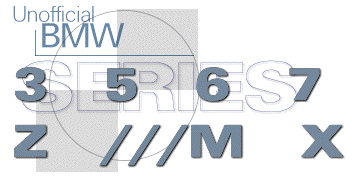 ---
---
From dale_at_unofficialbmw.com Fri Sep 11 12:07:37 1998
From: Dale Beuning <dale_at_unofficialbmw.com>
Subject: Re: Need Help! e30 timing belt
To: Craig.McFadden_at_sheppard.af.mil (McFadden Craig SSgt 362TRS/RF7)
Date: Fri, 11 Sep 1998 12:08:48 -0700 (PDT)
Cc: dale_at_unofficialbmw.com ()

Stephen,
The problem sounds like you overtightened the tensioner when you installed the belt. The solution is to install a new belt and new tensioner. The tensioner get's bent when it's overtightened. See the following emails for more details.
Hope you make it home safely.
Dale
---
>From FLBEARCUB_at_aol.com Fri Sep 11 08:27:49 1998
To: dale_at_unofficialbmw.com
Dale,
I talked to one of our techs and he said the timing belt is being tightened to tight. He needs to replace the timing belt and tensioner again with new parts.
When it's to tight, it can bend the tensioner.
Stephen
>From scm1_at_tcp.co.uk Fri Sep 11 08:51:26 1998
From: "Sean Murphy" <scm1_at_tcp.co.uk>
To: <dale_at_unofficialbmw.com>
Subject: RE: E30 timing belt troubles...

Hi,
I saw your note on the digest about the E30 timing belt making a "buzzing" noise. I have understood that overtightening the tension on timing belts causes them to buzz. Just a thought, keep it in mind........
Good luck
Sean
http://homepages.tcp.co.uk/~scm1/bmm.htm
'90 E30 325i SE
---
> Hi,
> I am currently 1100 miles from home and have limited access to the internet.
> I just happend to remeber your e-mail and that we had corresponded. Before I
> can get home I need to resolve this problem, please let me know as soon as
> you can what may be wrong.
>
> I installed a new timing belt, tensioner, water pump and all seals on my
> 325e about 3500 miles ago (1985 model). It has begun making alot of noise,
> apparently at the cam sprocket. This noise has gotten progressively louder
> with my travels- a sort of buzzing sound. I pulled the distributor and upper
> timing belt cover last night and the belt seems in very good condition. I
> have noticed that the belt has shifted toward the radiator about 3mm on the
> pulleys from where the original belt rode and there is small accumlations of
> powdered rubber in the corners of the cover. The outside edge of the belt
> shows evidence of rubbing- not frayed, just polished but doesn't look
> hazrdous at all.
> I have since found out that there are 2 different belts available a 178
> tooth and a 177 tooth- if I have the wrong one could it cause this? If so,
> how do I determine which belt I require? I have checked 3 different
> installation procedures including the factory manual and have found nothing
> to indicate that I performed any procedures wrong. The old timing belt never
> gave me a problem and changing it was an effort to remove front engine oil
> leaks and was in good shape when it came off. I have to be able to get this
> thing back to Georgia in one piece next week, any info you could give me
> would be greatly apreciated. Thanks in advance!
> Stephen J Wawrzyniec, MSgt
> 41 RQS
> Moody AFB GA
>
--
---

                       |            Dale Beuning           |
                       |       email: dale_at_unofficialbmw.com     |
                       | web: http://www.unofficialbmw.com |
                        -----------------------------------

Unofficial Homepages: [Home] [E12] [E24] [E28] [E30] [E34] [E36] [Z3] [E39] [E46] [X5/E53] [ALL] [ Help ]