Home
E12
E24
E28
E30
E34
E36
Z3
E39
E46
X5/E53
ALL
Ron Stygar
Carl Buckland
Dale Beuning
Forums
Help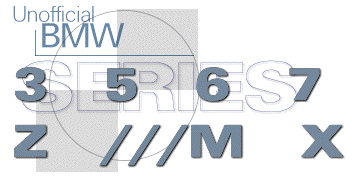 ---
---
From digest.v4.n584 Sun May 12 20:00:32 1996
From: "D. Greg Nichols" <gregoryn_at_physics.Berkeley.EDU>
Date: Sun, 12 May 1996 15:13:08 -0700 (PDT)
Subject: Re: <E30> Oil Leak

Craig,
>It looks like the leak is coming from the oil cooler adapter thing. Oil is
>the leaking part is the thermostat that regulates the flow of oil
>through the cooler.
We had the same problem on our '88 iX. It was the oil cooler thermostat. We took it to the dealer...big mistake! Cost was approx. $150 to install the repair kit that BMW has put together.
>Does anyone know if this can be repaired (kit #?) or if it is a replace only
>part? Has this happened to anyone else?
The part number for the repair kit is 11 42 9 059 338. The cost should be around $5. It is just some O-rings, a circlip, and a little cap. The procedure is covered in the April issue of BMW Car, if you are interested.
Greg Nichols
'88 325 iX
'75 2002
Unofficial Homepages: [Home] [E12] [E24] [E28] [E30] [E34] [E36] [Z3] [E39] [E46] [X5/E53] [ALL] [ Help ]