Google Search

Search (Google!!)
Search Amazon.com
Home
E12
E24
E28
E30
E34
E36
Z3
E39
E46
X5/E53
ALL
Ron Stygar
Carl Buckland
Dale Beuning
Forums
Help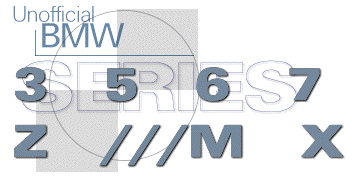 ---
---
From digest.v7.n352 Tue Sep 30 00:09:43 1997
From: Chris Simon <boyracer_at_wwa.com>
Date: Mon, 29 Sep 1997 22:50:23 -0700
Subject: Re: <E30> M3 Engine dying a slow death???

Anthony,
There are a few possibilities I can think of for your oil leak problem:
The oil filter itself wasn't real tight or loosened up, allowing oil to leak out. Not common, but possible.
The seal between the oil filter and housing blew out. This usually occurs when cold and there is a lot of oil pressure right away. Some 02's and 320i's would even explode the filter.
The sensors for oil pressure and temperature are in fact leaking. This doesn't usually spray oil though. It usually just runs down the harness, and gets everywhere.
The filter housing is leaking where it meets the block. Again, this doesn't usually spray oil.
The seal for the pressure relief valve on the back/side of the filter housing blew out. This is also called the vitom seal, and is held in by a spring clip. I have heard of the clip falling, usually after a poor repair.
One or both of the oil cooler lines have sprung a leak. The right side line on my car almost popped because it had been rubbing on the back off the airbox.
In any case the leak should be easy to find. Clean everything off real well, start the car, and see where it is coming from. Sometimes a flashlight and mirror help. I'm sure your motor is fine unless you ran it real low on oil. Fix that leak and start winding it back up where it belongs... above 4,000 rpm's :-) Hope this helps,
Chris
> Anthony Le wrote:
>
> All,
>
> After some spirited drivings this weekend, I noticed a puddle of oil
> leaking from my E30 M3....a bad sign since this car never leaked oil
> before. Opened up the hood & found there were oil leaking & oil sprays
> near oil filter location. I think the leak is from the oil temp sender
> unit & oil pressure switch. The connectors were filled with oil. There
> aren't any sign of oil leak at the base of the sending units. Somehow
> engine oil is gushing up & through these units & filling the electrical
> connector /w oil and spraying the area.
>
> Spirited driving means shifting at pretty high RPM, touching the 7500
> rmp redline couple times. Yes, the engine oil temp was above 120 degree
> before I rev the engine above 4K.
>
> Do I just have bad sending unit/sensors, or is this a warning of bad
> things to come? Any E30 M3 owner have this problem?
>
> It would really suck if I can't rev the engine over 3K anymore.
>
> - --
> anthony le
> with a sick ///M3
Unofficial Homepages: [Home] [E12] [E24] [E28] [E30] [E34] [E36] [Z3] [E39] [E46] [X5/E53] [ALL] [ Help ]