Home
E12
E24
E28
E30
E34
E36
Z3
E39
E46
X5/E53
ALL
Ron Stygar
Carl Buckland
Dale Beuning
Forums
Help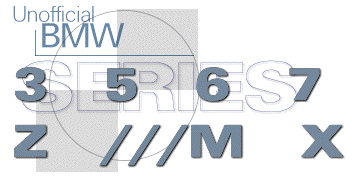 ---
---
From digest.v7.n1020 Mon Jan 26 15:56:49 1998
From: Ben Liaw <bliaw_at_maple.nis.net>
Date: Mon, 26 Jan 1998 11:45:06 -0500 (EST)
Subject: <E30 M3> Intake Gaskets - REPLACE THEM, DON'T RESEAL!

I think many E30 M3 owners can benefit from my recent experience.
My E30 M3 had an intake gasket leak...all the E30 M3's do it, so get used to it. Symptoms may included bad or irregular idle, a chirping sound, and bad gas mileage. Heck, a heavy foot would affect the gas mileage, too, but I digress.
I had my intake gaskets (66,000 miles) resealed with Hydromar sealant. Guess what? It still leaked. Only did the REPLACEMENT of the gaskets with new ones fixed the bad idle. Yeah, the gaskets are pricy at $94 each list (and you need two), but it's the only sure way of sealing it up.
The old gaskets had signs of wear...I imagine just enough to make the darn thing leak.
Regards,
Ben
'96 M3 Alpine White - Damn, this car is boring. '88 M3 Alpine White - The real YEEHA car!
Unofficial Homepages: [Home] [E12] [E24] [E28] [E30] [E34] [E36] [Z3] [E39] [E46] [X5/E53] [ALL] [ Help ]