Home
E12
E24
E28
E30
E34
E36
Z3
E39
E46
X5/E53
ALL
Ron Stygar
Carl Buckland
Dale Beuning
Forums
Help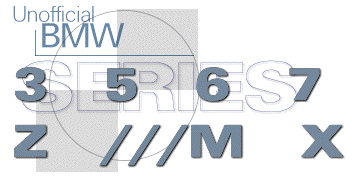 ---
---
From digest.v6.n134 Tue Jan 28 20:35:28 1997
From: Bob Stommel <bob_at_trader.com>
Date: Tue, 28 Jan 1997 17:00:42 -0500
Subject: ?E30 M3 Intake Manifold Gasket?

>I've got a fine '88 E30 M3 (third owner) that's due to exit the body shop on
>Monday - another story. Anyhow, the car runs like a champ. Or, at least, I
>think it does. (Going to my first driving school in February at Phoenix at
>Firebird. Perhaps I'll see some of you fellers. Street tires, etc. I want
>to find out where the limits of adhession are with the stuff that I normally
>drive.)
>
>I've seen some postings recently that seem to suggest that there's a "well
>known fact" that the intake manifold gaskets on E30 M3's are somehow
>defective and should be replaced. I checked the FAQ's and found nothing.
>
>Am I dreaming? Am I making this up? TIA.
The referenced gasket is probably the gasket between the cylinder head and the intake runner tubes. There are two of them, one for each two intake runners. Each gasket is made of a rubber-coated metal alloy. The face of the gasket has a thin "lip" that seals against the manifold/cylinder head. Engine vibration wears away the lip, causing unmetered air to leak into the cylinder head. The symptom is a very rough idle when the engine is cold and then the idle smooths out as the engine warms up and the gasket gets hot and reseals the gap. Mine seem to last about 15,000-20,000 miles. There is a TSB that recommends coating the gasket lip with high temp silicone sealant when installing the gasket to reduce the chance of air leaks. I did this when I replaced my gaskets about 15,000 miles ago -- no leaks so far.
YMMV, my opinions are my own, draw your own conclusions, don't follow conventional wisdom, blah, blah, blah. (Had to add this for Bill B.'s benefit. :-) )
Regards,
Bob Stommel
Indianapolis, IN
78 320, 88 M3, 95 M3
---
From digest.v6.n134 Tue Jan 28 20:35:28 1997
From: Russell Shigeta <ez046453_at_isun.ucdavis.edu>
Date: Tue, 28 Jan 1997 15:12:10 -0700
Subject: ?E30 M3 Intake Manifold Gasket?

Believe it Bruce,
I just had my intake gasket replaced. The car ran fine with a slightly high idle (about 1k rpm). The price for the "gaskets", Are you sitting down? About $100 (dealer).... each... you need two. You can diagnose the problem easily by squirting some brake cleaner around the intake gasket and if the idle changes its probably the gasket. If the rubber hose that connects to the idle adjuster thingie (OK I forgot what it was! Propeller heads help me please) under the intake manifold can also deteriorate and give you additional vaccuum leaks. Don't even think about reusing them with some Dirko to correct it, thats what the previous owner of my did. Obviously, not a permanent fix.
Now for my question. When I replaced mine with the latest E30-M3 intake gasket, the new gasket had considerably larger intake passages in it than the original. For those who haven't seen this $100 wondergasket, (as in I-wonder-why-something-so-expensive-sucks-so-bad, pun intended), it is about a 0.25 thick gasket. I figure the gasket is now an intake flow disruption as my intake tract isn't as smooth as it should be. Did BMW give me the wrong gasket? Maybe they sent me an EVOII or III gasket? Unfortunately, the sucker is in there now and I am not going to pull it out, but I figure if it helps the next guy who has to do his gasket.....
good luck.
>
>From: Bruce McReynolds <bmcr_at_lanl.gov>
>Date: Tue, 28 Jan 1997 00:58:05 -0700 (MST)
>Subject: ?E30 M3 Intake Manifold Gasket?
>
>I've got a fine '88 E30 M3 (third owner) that's due to exit the body shop on
>Monday - another story. Anyhow, the car runs like a champ. Or, at least, I
>think it does. (Going to my first driving school in February at Phoenix at
>Firebird. Perhaps I'll see some of you fellers. Street tires, etc. I want
>to find out where the limits of adhession are with the stuff that I normally
>drive.)
>
>I've seen some postings recently that seem to suggest that there's a "well
>known fact" that the intake manifold gaskets on E30 M3's are somehow
>defective and should be replaced. I checked the FAQ's and found nothing.
>
>Am I dreaming? Am I making this up? TIA.
>
>
>------------------------------
Russell Shigeta
CDB Graduate Group
ez046453_at_isun.ucdavis.edu
Dept Biological Chemistry
MS1A, The Medical School
University of California at Davis
Davis, Ca 95616
Tel (916) 752 9070
Fax (916) 752 3516
Unofficial Homepages: [Home] [E12] [E24] [E28] [E30] [E34] [E36] [Z3] [E39] [E46] [X5/E53] [ALL] [ Help ]