Google Search

Search (Google!!)
Search Amazon.com
Home
E12
E24
E28
E30
E34
E36
Z3
E39
E46
X5/E53
ALL
Ron Stygar
Carl Buckland
Dale Beuning
Forums
Help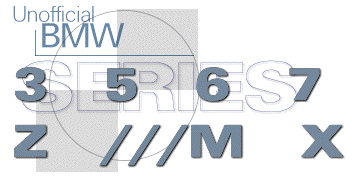 ---
---
From woody_at_dnaco.net Sat Dec 12 07:55:48 1998
for <dale_at_unofficialbmw.com>; Sat, 12 Dec 1998 07:55:46 -0800
by april.dnaco.net (8.8.5/8.8.5) with SMTP id KAA26900;
Sat, 12 Dec 1998 10:49:39 -0500 (EST)
id <01BE25BD.A4C6EF20_at_pm3-1-11.dnaco.net>; Sat, 12 Dec 1998 10:53:25 -0500
From: Penny/Brandon Wood <woody_at_dnaco.net>
To: "'BMW Digest'" <bmw-digest_at_mailgate.wizvax.net>,
"'cgrafton_at_hotmail.com'"
<cgrafton_at_hotmail.com>,
"'gustavo_at_gus-melo.com'"
<gustavo_at_gus-melo.com>,
"'dale_at_unofficialbmw.com'" <dale_at_unofficialbmw.com>
Cc: "'Steve Brooks'" <ssbb_at_bellsouth.net>
Subject: (E30 M3) Replacing Fuel Pressure Regulator (Long)
Date: Sat, 12 Dec 1998 10:53:13 -0500

THE CAR
88 M3, 61k miles, starts great, idles smooth, clean K&N air filter, AFM not sticking, new O2 sensor, no known vacuum leaks, Conforti chip
SYMPTOMS
When warming up, idling, engine "searches" for correct rpm; e.g. begins at 800, climbs to 1800 for 15 seconds, drops to 1200 for a bit, then returns to 800.
Coast out of driveway, put in first gear, let out clutch then engine hesitates, looses power, dash lights flicker. Must depress clutch immediately or engine dies, otherwise it catches itself at 400 rpm for 6 seconds and recovers.
Same thing could happen at next stop sign or stop light w/in 2 minutes of driving off.
Occasionally tries to do the same while moving but momentum keeps engine rpm up but with no power available
Symptoms more pronounced when colder outside
Had been slowly getting worse over last year
Started noticing black soot in garage & on driveway immediately behind exhaust.
One day after letting car idle for 5 minutes to warm, noticed 2 ft, completely black, splotch on driveway--My car was pissing blood!
PROGNOSIS
Digest: Check air flow meter set screw--good advice but for different problem
Local good-reputation mechanic (had owned E30 M3): Erratic problems are hard to find, don't throw parts at it, live with it until it gets worse--same thing said 9 months ago
BMW Dealer: "Started car cold [but during unusually warm weather] could not duplicate concern at this time. Checked fuel pressure with gauge, pressure good. Probable cause for concerned symptom could be regulator that would be sticking intermittently causing engine to run rich and overload, estimate for replacing regulator...$135 plus tax" Total labor cost--$33.55
PARTS
1 0 280 160 226, Fuel Pressure Regulator; Bav Auto, $59.95 incl S&H (original black painted part, 0 280 160 249, was unavailable, replaced with above part but now with no paint) 13 53 1 726 960, fuel hose; Dealer, $10.20 51 73 1 470 035, black vacuum hose; Dealer, $4.70 (this was 3 mm inner, 6 mm outer diameter, not 4/8 mm that I pulled off the car)
PROCEDURE (one beer, easy)
What? The fuel pressure regulator is 1.5 in diameter cylinder about 2 in long. Crankcase pressure is fed into the bottom that modulates a value regulating the fuel pressure to the injectors (allows lower fuel pressure at lower rpms). Fuel is fed into and out of it thru a pressure connection to the fuel rail and a 2 inch long, 7 mm inner, 14 mm outer diameter hose (which has a violent turn!)
Where? On the original M3 it sits at the front end of the fuel rail, on top of the engine

Loosen hose clamps (2) with 5 mm socket
Pull out 90 deg fitting at end of 6 in. vacuum hose from engine, use pliers--don't scrap your valve cover or fuel rail!
Remove 10 mm bolts (2) that hold regulator to rail
Put an old rag below regulator to catch fuel
Pry off regulator with screwdriver
Pull the fuel hose off fuel feed line that parallels fuel rail. If your hoses are like mine, they have aged and are now a permanent part of the fuel pressure regulator. You'll have to replace them (it's a good idea anyway)
Clean that part of the engine, incl the hose clamps--it's never gunna get easier than now!
Remove vacuum hose from old unit, separate 90 deg fitting and vacuum hose wrapping from 6 in vacuum hose. (Notice the direction fitting is facing)
Carefully measure new length of vacuum hose, replace 90 deg fitting and wrapping after installing new hose on new fuel pressure regulator
Coat o-ring on new fuel pressure regulator with a little oil
Install new fuel pressure regulator back on fuel rail. (I used a little loctite on the bolts.)
Push 90 deg fitting back into rubber part on engine
With hose clamps hanging on fuel feed line, install new fuel hose on new fuel pressure regulator and push onto feed line. Replace & tighten hose clamps. (Don't try to use any old fuel line here! That bend is not possible, you kink the hose, overtax your fuel pump and loose fuel pressure...buy the OEM part)
Like I said, VERY EASY, engine now idles consistently at ~800 rpm and I haven't seen the hesitation since.
Brandon Wood
BMW CCA #127523
Unofficial Homepages: [Home] [E12] [E24] [E28] [E30] [E34] [E36] [Z3] [E39] [E46] [X5/E53] [ALL] [ Help ]