Google Search

Search (Google!!)
Search Amazon.com
Home
E12
E24
E28
E30
E34
E36
Z3
E39
E46
X5/E53
ALL
Ron Stygar
Carl Buckland
Dale Beuning
Forums
Help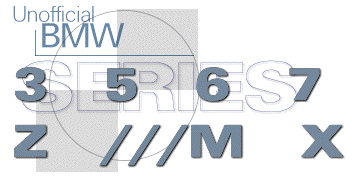 ---
---
From digest.v6.n452 Sun Mar 30 15:25:17 1997
From: William Proud <bmwbits_at_gte.net>
Date: Sun, 30 Mar 1997 11:14:03 -0800
Subject: E30M3 Lunch your engine for $5 !!!

A word of warning for E30 M3 owners....to echo Shakespeares warning 'Beware the Ides of March' I suggest 'Beware the oil bypass cap replacement kit'...part number 11 42 9 059 338.....and keep an eye on that idiot oil pressure light!!
Let me relate my experience with this $5.38 kit.....The kit is designed to cure the nagging leakage problem that the original cap and seal had ....this bypass is down on the side of your oil-filter mounting block/housing and controls the flow of oil to the oil cooler.It is just a bit fatter than a standard Mil-Spec thumb and plugs into a corresponding hole in the mount-block and behind the cap is a pretty stiff spring and plunger. The whole issue is retained by a round cross-section retaining ring which fits into a groove cut into the housing...this is where the caveat comes ....The fit of that retainer ring secures the whole flow of oil either TO your engine if it stays in place,or OUT of your engine if it doesnt. There is NO safety wiring standard to this installation...but my next one will have such a simple thing (go ahead ask me why..!!) as there is enough material in the housing to take it. I guarantee you it takes about 200 milliseconds at 6500 rpm to empty ALL the oil from your sump onto the road when it lets go...and if you ARENT watching that idiot light ,your motor will follow the oil by discarding pieces of itself onto the road. I speak from experience this last week...I was lucky,I caught it when it happened and got things shut down in a hurry...it was the first time I had had an opportunity to 'open things up ' toward redline since an oil change and kit installation a week before...but I had done 200 miles in between times,so it isnt as if the thing let go at the first sign of internal pressure. Your first reaction ,like mine was to think that I didnt get the ring seated properly...I am a 56 yr old professional QA mechanical engineer who has worked with mechanical things since Adam was a boy so I kind of doubt it,but there IS a first time for everything so maybe 'tis so.The ring in the kit is a different configuration than the original one put in at the factory..I'm off to measure diameters of wire!!...yes the ring that popped out laid like a lamb next to the starter motor..along with the plunger. But no replacement cap,and the spring is gone .
Question...anyone else on the digest had similar problems?..or is it just me??
Wanted to raise the warning light as the season for drivers schools etc is upon us..and who knows how many kits were installed over the winter!! Bill Proud BMW ACA CCA UK etc for 25 yrs in Seattle.
Unofficial Homepages: [Home] [E12] [E24] [E28] [E30] [E34] [E36] [Z3] [E39] [E46] [X5/E53] [ALL] [ Help ]