Home
E12
E24
E28
E30
E34
E36
Z3
E39
E46
X5/E53
ALL
Ron Stygar
Carl Buckland
Dale Beuning
Forums
Help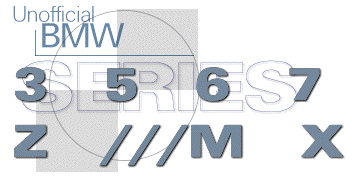 ---
---
From digest.v7.n513 Wed Oct 29 22:59:36 1997
From: danzee_at_juno.com (Dan B Zeitlin)
Date: Wed, 29 Oct 1997 20:43:25 EST
Subject: E30: Bad Fan Clutch?

>I've got a 1986 325 with 179k miles. During the summer months after
>driving a while the car will start to get hot in stop and go traffic. It
>only takes a few minutes before the temp. gauge starts rising. Turning
>the heater on helps most of the time but not always. Unless the car can
>get up to speed and drive air through the radiator it will get real hot.
>I suspect the fan clutch. I can stop the fan real easily when the car is
>idling with my bare hands. Is this normal or is the fan clutch bad?
No, it's not normal when hot. Yup, it's the fan clutch. It's about the right mileage for the clutch to fail. think about $70 mail order for the OE part.
Dan Zeitlin, Annapolis, MD
BMW CCA #67431
<danzee_at_juno.com>
<zeitlin.d.b_at_postal.essd.northgrum.com>
Unofficial Homepages: [Home] [E12] [E24] [E28] [E30] [E34] [E36] [Z3] [E39] [E46] [X5/E53] [ALL] [ Help ]