Home
E12
E24
E28
E30
E34
E36
Z3
E39
E46
X5/E53
ALL
Ron Stygar
Carl Buckland
Dale Beuning
Forums
Help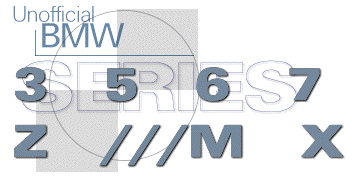 ---
---
From MrReel325_at_juno.com Fri Oct 10 13:33:34 1997
To: dale_at_unofficialbmw.com
Subject: 1984-85 e to i modifications
1984-85 e to i modifications
Hello fellow Bimmerheads. If you are as crazy about the E30 325 cars as i am then like me....you are always searching for ways to improve your car. A few years ago i was faced with a dilema.......get a 90 E30 M3 (Salmon Silver/Silver w/80K) for 17K or just keep the old faithful 85 325e (Bronzit/Black w/90K), paid for. Although the E30 M3's are stunning both in performance and appearance, I decided to keep the 85 and modify it. My mods include an engine transplant....but not with just an "i" engine. I didn't want to go from a 2.7 to 2.5 just to get Revs and HP from the head and put out about the same torque as the ETA engine did before. It didn't make sense to me. So after some studying...and calls to the almighty Pete McHenry, I found that I couldn't just bolt an "i" head to an "E" block with out changing pistons....and the cost of that is almost like buying another used engine.
The basic Motronic was thrown out...in favor of a Motronic 1.3 unit (89-91). For the 86-88 Eta cars.....this was a piece of cake because the C101 connector (fuse box) was the circular type.....same as all "i" cars. But the earlier pre 86 cars have a rectangular C101 connector which has to be modified (I converted it to a circular connector and added 2-3 more wires for the "Check Engine" light and M3 oil temperature sender). To keep this short heres a list of my mods:
Engine: 2.7 liter "i" engine, K&N filter, Jacobs ignition Lubrication: Oil cooler
Management: Motronic 1.3 w/ chip
Transmission: Auto to 5spd conversion (Getrag 260) single mass flywheel. Exhaust: "i" complete dual pipe exhaust (catalyzed) w/ Ansa rear muff. Suspension: Boge Turbo Gas, Eibach Springs, M3 control arm bushings, M3 sway bar, Eibach Strut Tower Brace.
Rear End: 3.46 LSD
Exterior: factory front spoiler(with all BMW underbody, brake ducts), M technic rear tail (not M3), side skirts, apron, 86-88 bumper fillers, mirrors (all body color matched). Hella Elypsoid Headlight conversion, Blacked out chrome, Blacked out Grill, Blacked out widow trim, tinted side markers and clear front turn signals.
(1/98) I have added Tinted Taillights and ATE POWER DISC brake rotors and Stainless Steel braided-Teflon Brake lines.
Interior: M3 instrument cluster(reworked) (modified with "Check Engine" light, working Oil temp gauge), M-tech steering wheel, factory tweeter assemblies, M-striped shift boot, leather wrapped hand brake handle and boot, lighted switches, updated door panel clips.
Wheels: 16x7.5 TSW Blades with Nitto NT501's
I haven't dyno'd my car yet ....but I estimate 195 HP / 200 torque conservatively. Not bad for an engine built with genuine BMW parts unmachined. I plan to raise the compression, Shrick 272 or 288 cam, big bore throttle, and port work. I still want an E30 M3.....but I am no longer in a rush to get one. My car looks damn good but the flares on the M3 are legendary. I hope this info will enlighten those of you who have an early E30 or E28 Eta car.
---
Reference:
Pete McHenry
Precision Performance
Winston-Salem, NC
910-761-0643
---
Unofficial Homepages: [Home] [E12] [E24] [E28] [E30] [E34] [E36] [Z3] [E39] [E46] [X5/E53] [ALL] [ Help ]