Home
E12
E24
E28
E30
E34
E36
Z3
E39
E46
X5/E53
ALL
Ron Stygar
Carl Buckland
Dale Beuning
Forums
Help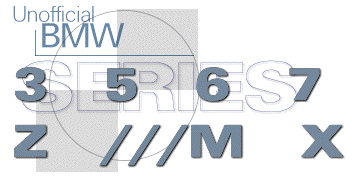 ---
---
From digest.v7.n1571 Wed Apr 22 21:54:09 1998
From: "John C. Hanes" <jchanes_at_eden.rutgers.edu>
Date: Wed, 22 Apr 1998 20:29:39 -0400 (EDT)
Subject: re: <E30> aux fan questions

Vince says:
> I noticed in the Bentley manual, the fan should come on at one of two
>speeds once the car temperature is a certain level.
This is true. Once the temperature reaches a certain dangerously warm level that the engine-driven fan doesn't seem to be compensating for.
>It also says it should come on with the A/C.
This is also true. This is to drive air over the condensor (in front of the radiator) so that if you're not moving, your A/C still blows cold.
>Question one: Should it automatically come on by switching on the a/c or
>is it still subject to the engine reaching a certain temperature?
It should automatically come on by switching on the A/C, regardless of engine temperature.
>Question two: In the event one or both of the sensors are bad, what are
>the recommended temps?
I replaced the low with an 82c and put the 91c (previous low) in the high position. I saved the 99c in case I want to switch back. The fan is electric and doesn't rob any power from the engine, and it helps make sure the engine doesn't get too hot. Remember, if the baby six in the E30 overheats, then you might get the dreaded head crack under the #5 cam journal. Don't want that to happen! Plus if you've got lotsa miles on your engine, and haven't replaced the fan clutch on the engine-driven fan, odds are it's pretty much shot (I know mine is - I'm fixing it this summer). To test, take a piece of cardboard or tightly wrapped newspaper and jam it in the fan blades when the engine is running at normal temperature. If you can stop the fan from spinning, time for a new fan clutch. In the meantime, put lower rated aux fan temp sensors in your radiator.
>Question three: As I begin to trouble shoot tonight, any common problems
>I should look for?
YES! Look at the thumb-sized ceramic resistor that's bolted onto the front frame of the auxiliary fan at about 4-5'o'clock. These things go all the time. My dealer told me I needed a new fan because mine was frozen (at a cost of about $450) and I fixed it by replacing this resistor. The resistor isn't cheap either - about $15-20. How do you know it's bad? Well, you can test its resistance, but mine crumbled into nothing when I tried to unbolt it from its bracket, so I figured it must be bad. :)
Hope this helps!
John C. Hanes
1986 325es 151k
JC/K&N/Bilstein/PBR/Ansa Sport
Cook Campus, Rutgers University
New Brunswick, New Jersey
NJ BMWCCA #149905
Unofficial Homepages: [Home] [E12] [E24] [E28] [E30] [E34] [E36] [Z3] [E39] [E46] [X5/E53] [ALL] [ Help ]