Home
E12
E24
E28
E30
E34
E36
Z3
E39
E46
X5/E53
ALL
Ron Stygar
Carl Buckland
Dale Beuning
Forums
Help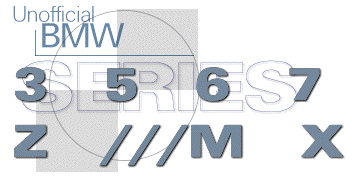 ---
---
From digest.v7.n862 Fri Jan 2 03:40:29 1998
From: Jay Snyder <jsnyder_at_microserve.net>
Date: Thu, 01 Jan 1998 23:54:13 -0500
Subject: re: <e30> 318i to 325e

>Is this a front to back swap or just through the tranny?
This should be a front to back swap, as the rear ratio for the 325e is substantially different (2.79:1 or 2.93:1 for the 325e vs. 3.64:1 or 3.90:1 for the 318i).
You may want to also bring over the rear swing arms and rear disc brakes over from the 325e.
>
>Any critical areas with electronics or fuel? Don't intent to swap the OBC,
>but might if it is practical.
You will definitly need the engine harness, ECU, and ICU (idle control unit).
Get the ETM (electrical trouble shooting manual) for both cars to assist in this conversion (I'm about to start a 325e->325i conversion).
J.
'89 325i w/ Jim C Chip
'85 325e->i (project)
'74 2002 (future 325i engine recipiant!) '67 Firebird 400 Conv (4spd -- of course) '86 Chevy C10 Pickup
---

Jay Snyder                                   ________
jsnyder_at_microserve.net                      /________\
http://www.microserve.net/~jsnyder         (oo==OO==oo)
(717)652-3567                               _at_        _at_

Unofficial Homepages: [Home] [E12] [E24] [E28] [E30] [E34] [E36] [Z3] [E39] [E46] [X5/E53] [ALL] [ Help ]